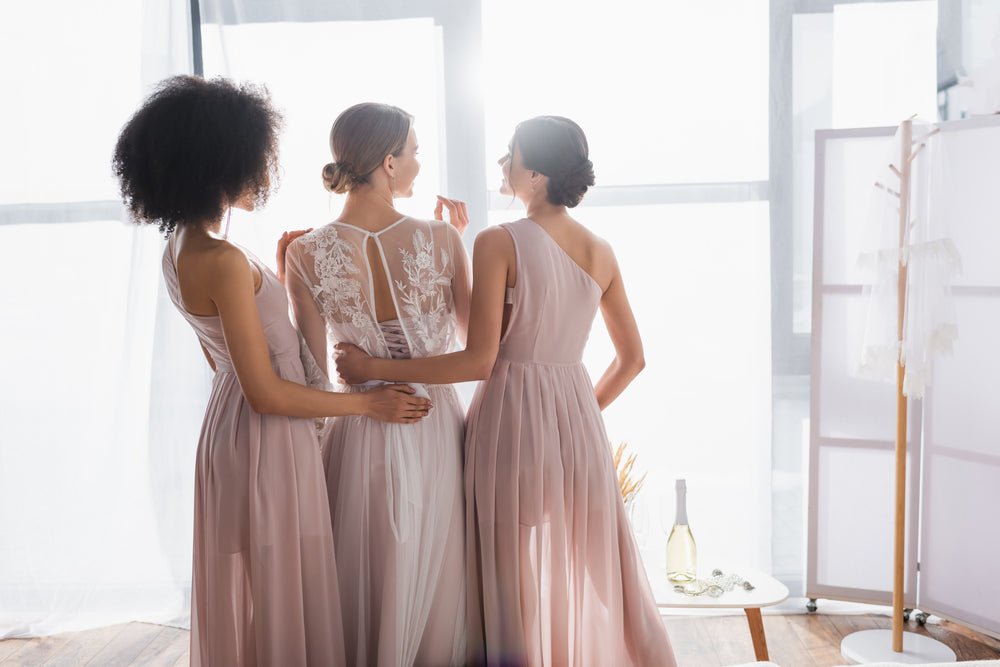 What Do Bridesmaids Do? Important Duties To Know!
Although it's lovely to be asked to be a bridesmaid for your friend, it is a big task and one not to take lightly!
From walking down the aisle in front of so many people, to helping to calm her nerves and plan her the best hen party ever - these are just a few things you need to think about when accepting the request to be a bridesmaid or maid of honour. 
From our first hand experience of being a bridesmaid 4 times and Maid of Honour, our advice will help you keep your bride happy and play your bridal role as best you can. 
Here are some important bridesmaid duties you should carry out from the day you say yes up to the big day!
Let's dive in!
How To Be A Good Bridesmaid
If you have been asked to be a bridesmaid and you're wondering how to be a good bridesmaid, then we have some tips for you.
Even by Googling "How To Be A Good Bridesmaid?" shows that you care, and really that's one of the main things you can do - be caring and supportive to the bride throughout the process. 
Here are a few other things you can do to be a good, reliable bridesmaid:
Be a sounding board for her ideas

Be good listener when she needs it

Offer to help her with the overall planning of the day and any events in between.

Put your own preferences aside for her big day (if you think you don't look good in yellow, remember that's what she wants and if it's her colour scheme, understand that's what her dream wedding is!)

Showing up! Being a bridesmaid means attending appointments like dress fittings, the hen party etc.  Ensuring you have the time to attend appointments and events like this is important.

Calming her nerves
Coming up with solutions to any problems that might arise. 
For example, if the bridal party has a disagreement, providing solutions and options rather than getting involved in the disagreement is more helpful 
Enjoy the process! Remember, you've been asked to be a bridesmaid.  If you think it sounds too daunting, you don't have the time or it sounds like something you might not enjoy, be upfront and honest and don't take on the role. If you take on the role, do it with enthusiasm.  Nobody wants a miserable bridesmaid in all of the wedding photos!
A List of Bridesmaid Duties & Responsibilities
Bridesmaids have a number of responsibilities to carry out leading up to and on the day of the wedding.  
The main and most important responsibility of the role is to support the bride throughout her journey. 
If the bride has chosen a Chief Bridesmaid or Maid of Honour, it is your duty to help support those roles as well as the bride and groom.

The MOH or Chief Bridesmaid will likely make the final decisions and need support from all of the bridesmaids throughout the process.
There are a number of traditional duties to be aware of if you have accepted the role of a bridesmaid.  These include:
Helping the bride to pick out the perfect dress 

Assisting with finding bridesmaid dresses that fits with the colour scheme

Giving the bride advice or feedback on wedding related issues or ideas

Attending bridal appointments (e.g dress fittings, dress shopping etc)

Helping with DIY or assisting with favours, menus, invitations etc

Planning the hen party!

Helping with small touches for the big day like wedding music playlists, setting up the venue etc

Helping to calm her nerves

Help her to get ready on the morning of the wedding

Communicating with suppliers on the day when she is busy 

Running errands (e.g dropping off gifts to the parents or the groom)

Helping to solve any issues that arise on the day

Taking photos of the wedding morning / throughout the day 

Attend the wedding rehearsal and walk down the aisle

Supervise the younger bridal party members (Paige boys or Flower Girls)

Ensuring her dress is falling correctly for her wedding photos

Looking after her bouquet when needed

Attending to and socialising with wedding guests - encouraging people to dance, sign the guest book etc

Checking in on the bride and groom throughout the day to see if they need anything - makeup touch ups, drinks etc

Staying at the wedding until the end of the reception.  It is courtesy to stay for the entire day and night until the majority or all of the guests have left

 Helping to clear up after the wedding

Giving a sentimental gift or card
Important Bridesmaid Duties and Tips
There are some tasks from the list above that are extremely important which we have expanded on below.  We have also provided some essential tips relating to some of these tasks.
Attending Bridal Appointments
When the bride asks you to be a bridesmaid, this means sharing her journey with her from start to finish. 
It includes shopping for the dresses, attending dress fittings or hair and makeup appointments.
It is best to be upfront from the start about how available you can be.  If you need plenty of notice to attend appointments, make sure to let the bride know this.
Important appointments like dress fittings can be quite stressful, so trying your best to be able to attend those will mean a lot to her.
Finding Bridesmaid Dresses
Bridesmaid dresses can be a controversial topic at times.  With women of different shapes and sizes - what might suit one bridesmaid might not suit another when it comes to styles and colours.
Your role as a bridesmaid is to assist the bride in helping her find a bridesmaid dress that she likes, and sometimes this means putting your own preferences aside. 
That doesn't mean to say if a dress is too offensive (aka revealing), or goes against your cultural beliefs, that you can't communicate this.  Just make sure you do this in a sensitive way.
Ultimately, when it comes to trivial things like a colour not looking right with your hair colour, or a dress not being what you would typically choose - you have to remember that it is the bride's day and to accept being a bridesmaid means putting your preferences aside (within reason).
Finding bridesmaid dresses can be stressful, as it can cast a lot of opinions. It is OK to have an opinion, but it is also important to provide solutions for the bridal party and help, rather than throw up issues without providing alternative ideas.
The Small Touches
There are so many small touches that a bridesmaid can make, which will make a huge difference to the day of the wedding or leading up to it. 
Many of these come from experience - and some of them actually come from hindsight and things we would have done differently - so take note!
Wedding Morning Playlist
This is something nobody really thinks about - the bridal party can sometimes assume the bride and groom have all of the music covered, but the bride probably hasn't had time to sort this playlist out.
While it might not seem that important, having a playlist for the morning when the bridal party is getting ready makes a huge difference to the vibe of the morning of the wedding. 
By having some upbeat or romantic music, it can calm nerves and change the mood of the morning if things are super stressful.
It can also make memories extra special - like playing a special song for her dress reveal. 
Wedding Countdown Gift 
This is such a lovely idea that can really make an impact on the bride leading up to her big day - something she will appreciate and remember.
If you notice your bride is becoming stressed with wedding planning, you can arrange a small countdown box to help relieve her nerves. 
This could be a small gift each month (a candle, spa gift, a letter, etc), or it could be a small gift each day a few days before the wedding.  
Makeup on the Day 
A tip from hindsight.  When I was Maid of honour, one thing I forget to do was ensure the bride's makeup was with her.  

The bridal suite was in another part of the venue - so once we got to the main area, she wasn't able to go back for her makeup unless she asked someone to go for her.

Being a super low maintenance bride, she didn't ask any of the bridal party to get it for her.
She mentioned after the wedding that she wished she had her makeup with her to touch up through the day - but time got away with her and she didn't get the chance to sort it out.

In hindsight, the bridal party realised this was also an error on our part and we really should have checked she had everything she needed before hurrying out of the suite on the morning.
Tip: Do a final check before leaving the bridal suite that the bride has everything.
Planning The Hen Party!
One of the top duties a bridesmaid has is sorting out a hen party or a bachelorette for the bride to be.
It's best to start planning as soon as possible to give everyone enough notice to be able to attend.
You need to consider who the bride will want at the hen firstly (talk to her for this).
Once you have a list, you can start thinking of ideas of what you could all do for the hen do, here's a list of 40 hen party game ideas you could use.
We have provided a list of essential hen party planning tips that will help you with this entire process.
A few things to remember are:
Communicating with the bride who should attend - make sure you find out who absolutely must attend. The dates must work for her key people.


Costs - It needs to be a reasonable price for everyone otherwise she will have only a few people attend. 

It is common for the hen party to split the cost of the brides attendance/activity amongst them (providing it isn't an expensive, abroad destination).
Shoes For Your Dress
Once your bridesmaid dress has been sorted for the big day, you need to sort out some shoes that you will wear for the celebrations.

Sometimes, the bride may offer to pay for your shoes, but this isn't always the case especially if she has already helped towards to cost of the bridesmaid dress! 
Make sure you ask the bride to be if there is any colour that she would prefer for you all to wear. You don't want to spend money on a brightly coloured pair if she is going to hate them!
You can then hunt down some great shoes that you can wear on the day. Remember to choose a pair of shoes which will be comfortable!  
A Special Gift (For The Newlyweds) and a Sentimental Gift For the Wedding Morning
It's an honour being asked to play such an important role in your friend or family member's big day. It is courtesy to thank them by ensuring you get them a lovely card or gift to celebrate their big day.
Although there is no specific amount to spend on their wedding day, it is important that you at least give a heartfelt card or gift within your budget to show your appreciation.
It is also lovely gesture to write the bride a personal letter, or give a small sentimental gift that symbolises your friendship or relationship and hand this to her on the morning of the wedding.  
This will be something that will be remembered by her forever and make her wedding morning even more special.
Be On Time
It's so important that you are there on time in the morning if you aren't staying with her the night before. She is bound to be stressed out so it's important that you are there to help her relax. 
Time keeping is especially important for the day of the wedding, as the hair and makeup will be running on a tight schedule.  If you're late to this, it can impact the rest of the schedule for the entire day.
Makeup And Hair 
Don't forget to sort out your makeup and hair for the big day. Although sometimes the bride pays for this, it shouldn't be expected.
Ask the bride what the overall look is going to be, and make sure you communicate this to the bridal party on the style you are thinking of going with. 
If you don't have a makeup artist, it might be worth practicing some looks and sending over images to the bride to ask her what her thoughts are for the big day. 
Taking Photos
The couple has to wait a while for the professional wedding photos to be finalised, and from past experience, the bride has ALWAYS asked if anyone in the bridal party took any photos. 
Ask the bride if she is happy for you to take photos on the wedding morning and throughout the day - and if she says yes, do it without getting in the way of the professionals! 
Taking photos of the wedding morning (the small details like flowers, the bridal party getting ready etc) and throughout the day and night will be appreciated if she has asked you to do so. 
Tip: Don't take photos at the ceremony if you are asked not to.
Our bridal party took videos at the end of the night of all of our friends dancing with the bride and groom and they loved the videos.  
We also took photos of the first dance and cake cutting.  Try to get some good shots that they will be able to look through before they get their professional ones!
Don't post the photos on social media until you have shared them with the bride and she gives the go ahead!

And that's it! We hope that you have enjoyed this post.  If you have any other tips from being a bridesmaid yourself, get in touch - we'd love to add them to our guide.