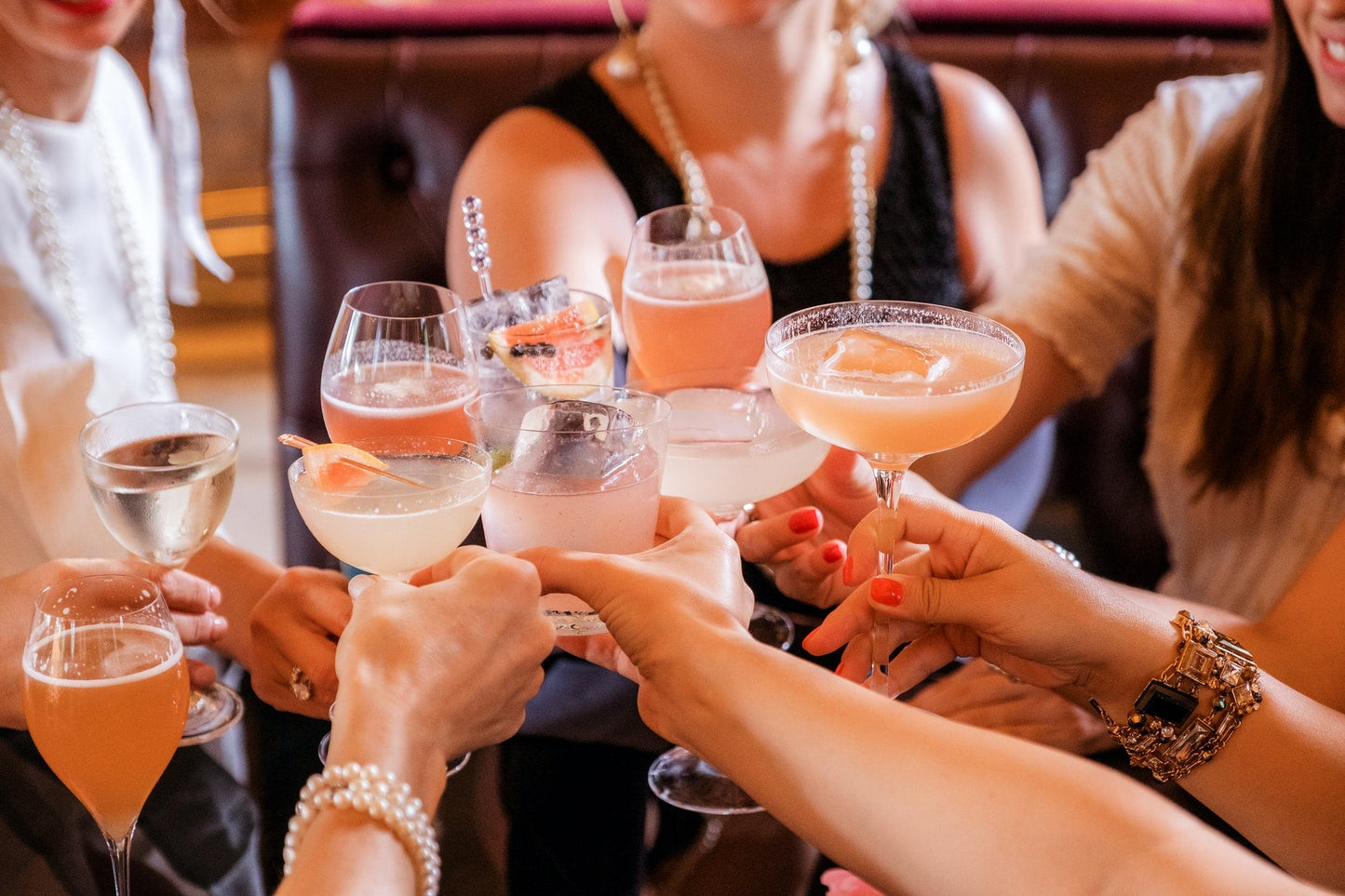 Hen Party Cocktails - Recipes Everyone Will Love!
Article Updated: 8th February 2022
Whether you're having a night in or pre-drinks before hitting the town, these hen party cocktail recipes will go down a treat and are total crowd pleasers! 
Many of these have been tried and tested, and to make most of them you'll only need 3-4 ingredients - the perfect hit for your hen do!
There's nothing like kicking off proceedings with a few cocktails to set the tone for a night of sophisticated fun. We've taken the work out of it with a guide to running your own hen party cocktail bar with some top recipes your party will love! The main thing to remember is to keep it simple. 
When it comes to deciding on the right drink for your party, choose a drink you and your friends actually really like!  We've summarised a few cocktails with different kinds of tastes to choose from including gin, prosecco, rose, aperol, campari and more!
Below are some of our top and easy tipples to serve up at your hen party.  
Jump To Recipe:
1. Rosemary Gin Fizz
Who doesn't love a G&T? It's a simple drink, loved by most and easy to jazz up! This recipe from Cookie and Kate can be made with only 5 ingredients which you will probably already have in the cupboard - gin, rosemary leaves, club soda, honey and a lemon.
This recipe and photo is taken from Cookie and Kate.
What You'll Need:
2 ounces (1/4 cup) gin
1/2 ounce (1 tablespoon) fresh lemon juice
1/2 ounce (1 tablespoon) rosemary simple syrup (recipe below)
3 ounces (1/3 cup) club soda
1 lemon slice, for glass
1 rosemary sprig, for glass

ROSEMARY SIMPLE SYRUP

1/2 cup sugar
1/2 cup water
1 rosemary sprig
How To Make:
Making the Rosemary Simple Syrup:
Combine sugar and water in a small saucepan then bring to a boil.  Cook, while stirring, until the sugar dissolves.
Remove pan from the heat, add rosemary, and then let steep for 1 hour. Discard the rosemary sprig.
Making the Cocktail:
Shake the gin, lemon juice and rosemary simple syrup in a cocktail shaker filled with ice.
Strain into a glass filled with ice. Add club soda. Garnish with lemon slice and rosemary sprig. 
2. Pimms
If you're planning a spring or summer hen party, a Pimms cocktail is the perfect start to a sophisticated afternoon.
It's a light drink in terms of alcohol content so a good one if you are starting early and want to ensure that the tipsy time doesn't kick in too soon.
It requires some pre chopping of cucumber and whatever fruit you want to include, but it's easily stored when pre mixed in jugs, keeping your hands free for partying!

What You'll Need:
200ml

 

Pimm's

 

No. 1
600ml

 

lemonade
mint

 

sprigs, sliced cucumber, sliced orange and strawberries, to serve
How to Make it:
Fill a jug with ice and pour in the Pimm's and lemonade.

Give it a good stir then add the mint, cucumber and fruit.  For a larger hen party just double the recipe.

 


3. French Martini
The French Martini is a fantastic looking cocktail which is easy to drink, easy to make and has rapidly become the number one choice for Hen Parties and other celebrations.  
The Ingredients:
vodka

 

50ml
raspberry liqueur

 

15ml
pineapple juice

 

40ml
raspberry

 

1, to garnish
How to Make it:
Pour the ingredients into a cocktail shaker with ice cubes.
Shake well.
Strain into a chilled cocktail glass.
Garnish with 3 Raspberries.
4. Mimosa
This is a PEFECT cocktail to pair with afternoon drinking or brunching.  If you're having a brunch hen party, Mimosa's are the perfect welcome drink. 
They are simple, refreshing and great for those who don't want to commit to drinking prosecco so early on!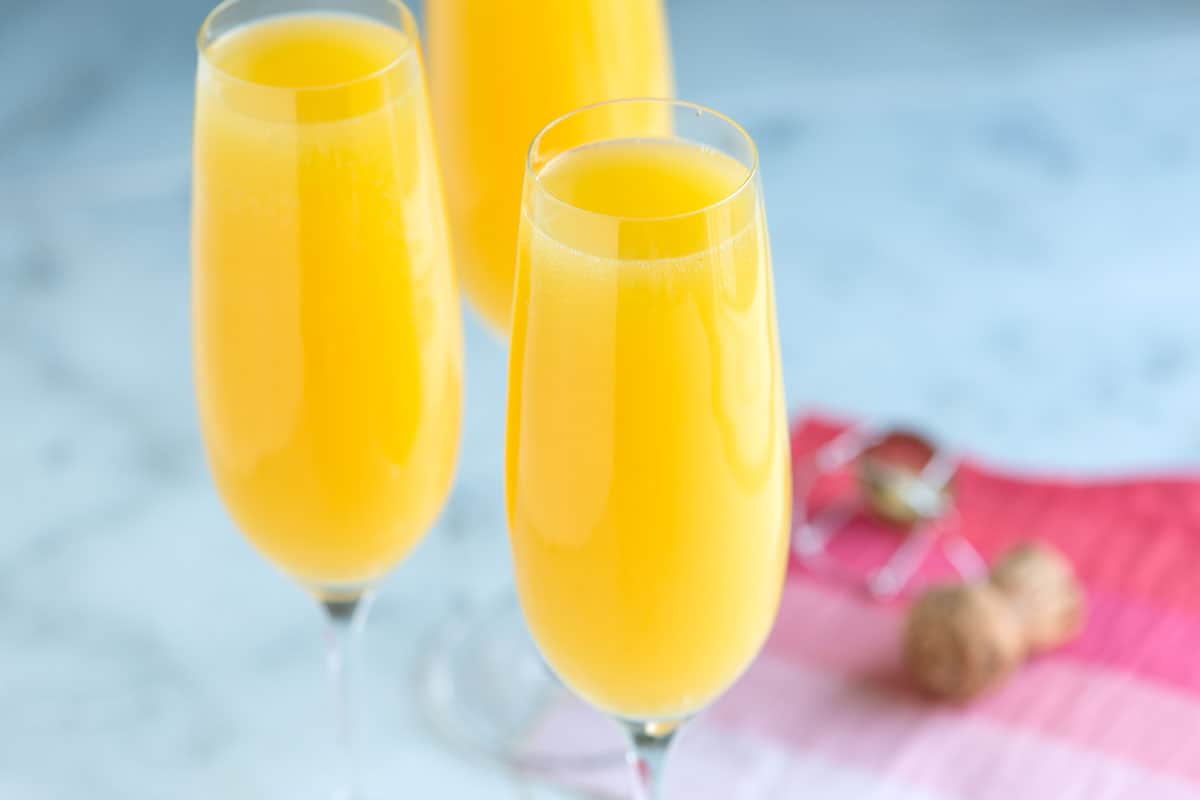 What You'll Need:
Prosecco / sparkling wine (tip - dry prosecco is best, as sweet prosecco paired with orange juice might be a little too sweet!)
Orange juice (fresh is best)
How To Make It:
Half fill each glass with prosecco
Top up with orange juice until the glass is full
5. Pornstar Martini
What girl doesn't love a pornstar?! A delicious fruity cocktail with a prosecco chaser, this cocktail is always a hit with hen parties!
Image: Liquor
What You'll Need:
For this, you are going to need a cocktail shaker and measuring cup - you do need to get the measurements right for this to taste perfect.
1 1/2 ounces vanilla-flavored vodka 
1/2 ounce passion fruit liqueur (such as Passoã or De Kuyper)
1 ounce passion fruit puree 
1/2 ounce lime juice, freshly squeezed
1/2 ounce

 

vanilla simple syrup
2 ounces sparkling wine or prosecco, chilled
Garnish: 1/2 passion fruit
How To Make It:
Simply add all ingredients (except for the sparkling wine/prosecco) into a shaker with ice and shake vigorously until well-chilled.
Strain the mix into a chilled coupe glass.
Garnish with a passion fruit half.
Serve with a sparkling wine or prosecco on the side.
6. Aperol Spritz
Aperol Spritz is the perfect drink for spring or summer.  It's super refreshing especially when topped with fresh fruit (oranges!) and plenty of ice.
Aperol Spritz is best served in a wine glass.  It only takes 4 simple steps to make this popular drink!
What You'll Need:
Ice (make sure you have plenty!)
Aperol (of course!)
Prosecco
Soda
Orange slice
How To Make It:
First, fill your glass with plenty of ice
Next, add 75ml prosecco, 50 ml Aperol, and 25 mL soda into each glass
The best way to remember the recipe is 3-2-1 (3 parts prosecco, 2 parts Aperol and 1 part soda!) - easy!
 7. Grapefruit Gin & Rosemary
This is one of our absolute favourites by The Cooking Bride.  The grapefruit mixer makes a nice change from a standard tonic, and the rosemary to garnish gives a gorgeous fragrance.
For this recipe, we suggest making it ahead of the party arriving as you will need to make your own sugar syrup (which is super easy!).
What You'll Need:
For the rosemary Simple Syrup:
1

 

cup

 

sugar

1

 

cup

 

water

2

 

large sprigs of fresh rosemary
For the Rosemary and Gin Grapefruit Cocktail:
2

 

ounces of

 

gin (60 ml)

3

 

ounces

 of 

red grapefruit juice (90 ml)

1

 

ounce (30ml)

 

rosemary simple syrup

 

more if you prefer it slightly sweeter
How To Make It:
Sugar Syrup Instructions:
Grab a medium sized sauce pan, and combine together the simple syrup ingredients over a medium heat

Heat the syrup to boil, then allow to simmer until the sugar has dissolved - this should take around 1-2 minutes

Remove pan from heat. Allow the mixture to cool completely.
Cocktail Instructions:
Combine cocktail ingredients (gin, grapefruit and syrup) in a cocktail shaker filled with ice.

Shake vigorously until everything is combined.

Strain into ice filled glasses.

Garnish with rosemary sprigs and top with grapefruit slices 
8. Pink Lady Cocktail
The pink lady cocktail fits in perfectly for a hen do occasion!  This cocktail has been a popular hit with the ladies since the 1930's. The ultimate feminine cocktail perfect for a gathering!
You'll only need 3 ingredients to make too, winner!
What You'll Need:
40ml Gin
25ml Triple Sec
20ml Lemon juice
Handful of raspberries
How To Make It:
Add the gin, Triple Sec and lemon juice to a cocktail shaker and give everything a good shake
Strain the cocktail mix into a martini glass.
Garnish with raspberries or a thin slice of lemon peel
 9. Campari Spritz 
We're obsessed with this next cocktail as it isn't your average classic - it will definitely have a few ladies asking how you made it and it will set a trend for a new favourite amongst the ladies! 
Tried and tested, this cocktail from Epicurious is one that will go down an absolute treat - it's also super simple with only 4 ingredients!
What You'll Need:
2 oz. (60ml) Campari
3 oz. (90 ml) dry rosé
A splash of lemon soda
1 lemon wheel
How To Make It:
Pour Campari and rosé into a rocks glass filled with ice.

Top off with soda, stirring gently to combine the mix

Add a lemon wheel to garnish
10. Great Gatsby Cocktail
Another fabulous cocktail that is light and bright - it is perfect as an afternoon or evening tipple.
This cocktail is best drank in an old fashioned or a short glass.  IT can be garnished with an orange slice (although we have tried this with grapefruit too which tastes just as great!).
This recipe is inspired by Matt Gilpin at Highlands Bar and Grill Restaurant in Birmingham.
What You'll Need:
30ml Vodka (1 oz)

30ml Lillet Blanc (1 oz)

75ml Grapefruit Juice (2.5 oz)

Orange slice
How To Make It
Add ice to your cocktail shaker and combine the 3 ingredients above 
Shake vigorously
Strain the mix over fresh ice
Garnish with a slice of orange (or grapefruit!)