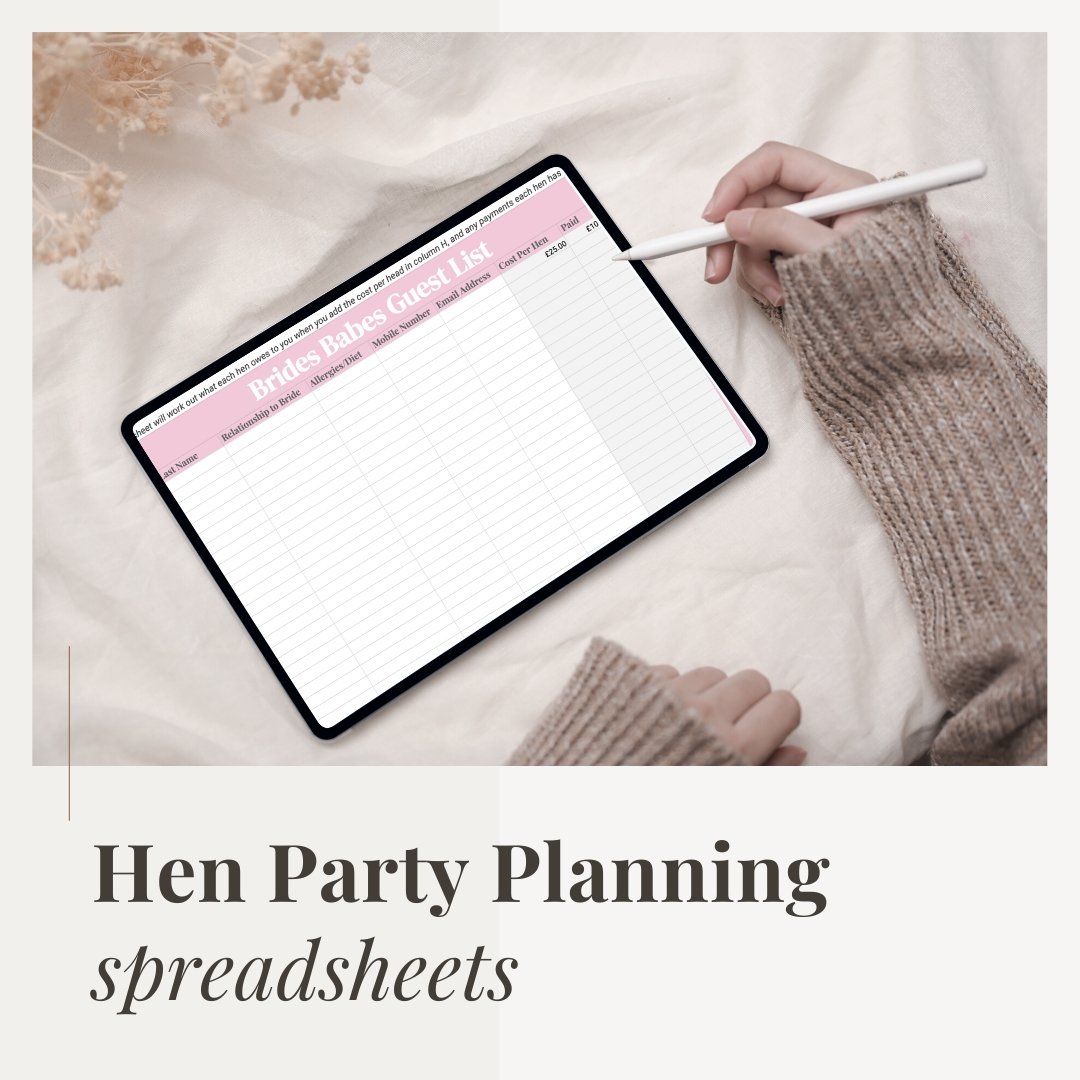 Free Hen Party Spreadsheet Templates To Keep You Organised!
If you're a Maid of Honour, Bridesmaid or the Bride who has been tasked with the planning of the hen party or bridal shower, we have the perfect resource for you - our ultimate hen party spreadsheet templates!
Our Google Sheets template contains 4 spreadsheets that have been created to help you plan the best hen party ever!
You'll receive a link to the sheet, which contains:
Budget Planning Spreadsheet
Guest List Spreadsheet
Hen Party Itinerary Scheduler
Hen Party To-Do List & Delegator
Download It Here
Simply add your email address and click submit - we'll send the spreadsheet directly to your inbox!

An Overview of Each Spreadsheet
Our hen party spreadsheet contains the following documents:
Hen Party Guest List Sheet
This sheet allows you to enter all of the guests including any allergy details or dietary requirements.  It also includes a formula where you can input the amount of money each hen owes and how much they have left to pay.




Hen Party Budget Sheet
This sheet allows you to add in hotels, activities, transports - any cost related to the hen do, and it will work out a total cost per head.  
It will also give you a breakdown of the total cost of the hen and the remaining balance left to pay!




Hen Party Itinerary Layout
Included in this template is also a hen party itinerary spreadsheet, which allows you to plan activities / important times to share with your guest.
This will help you guests to see what is happening over the course of the hen party, allowing them to plan outfits or pack accordingly.




To Do List
Finally, included in our spreadsheet is a to-do list which allows you to enter tasks and owners (if you have any bridesmaids you can delegate tasks in here!).  When tasks are complete, simply add an X and it will be checked off the list.

We have already pre-populated this task list to make planning even easier for you, but you can also add your own!