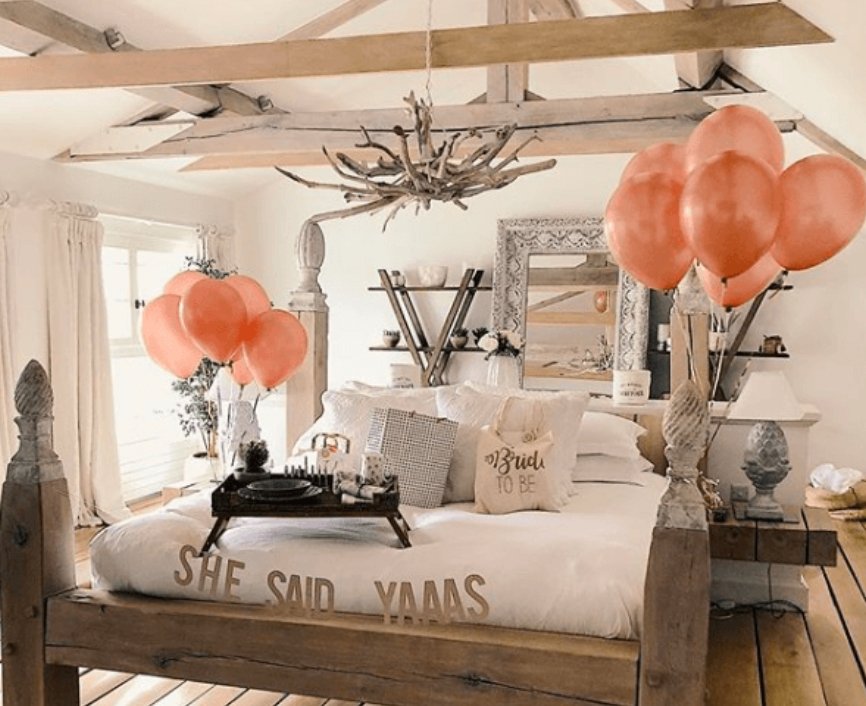 How To Make A Hen Party Special - 9 Personal Touches!
When it comes to a hen party, whether you decide on a glamorous night out on the Moet or a day rolling around in the mud, it all comes back to the bride and the little touches you bring to the party to make it special for her.
There have been some new and unique hen party ideas over the past year, with ladies using their creative streaks and breaking away from the traditional hen party mould.
We ADORE these as they really play on the brides personality and bring something different to the day. We love how hen parties are now being created to fit the bride to be's personality, and one of our favourite things to do is to get personal so it's a time with her girls that she'll remember forever.
Here are our top 9 personal hen party ideas which aim to make the event special and sentimental for the bride to be.  
1. Bring Photos & Memorabilia 
Whatever you do, make sure you pull a few photos together of the bride. No matter how embarrassing a baby or teenager she was, be sure to get a few in the mix.
You can hang a few up with some twine and pegs, stick them on a wall in the shape of a heart, hang them from balloons, a wall of fame or whatever your creative self comes up with. 
Even better, adding photos of her with everyone in her bridal party would also be a lovely touch to remind her of the reason she has all of her special ladies around her.
A hen or memory book is also a must in our opinion for a hen party. If you can organise this before the hen party it works best. Ask all the brides friends and family (no matter if they're coming to the hen party or not) for a little note to the bride and a photo if they have it.  
2. Her Very Own Hashtag
For any social media bees, this is essential. If the bride is an Insta or Selfie lover create a unique and personal hashtag for the celebration.
Lauren Conrad's was #donttellmrtell and Poppy Delevingne's was #popdoghen This is great for capturing all the hen party photos on Instragram and brings the day to life. Spencer from Pretty Little Liars had her hen weekend recently (in CAPRI!!) and her hashtag was #Bellisariogetsbooted.
Get ideas for the hashtag for your hen party with this fun hashtag generator here You'll have to sign up to unlock more ideas. It's for wedding #hashtags but it will definitely help to get some fun ideas flowing.
3. Personalised Bottle Labels
Bottle labels are a really fun way of personalising her hen party.  It's the little touches like these that really make a difference!  Etsy and Not On The High Street have a lovely range of different designs. 
We have shared a gorgeous example below from Amy Lucy Designs on Etsy.
These make fun touches to the hen party that will get everyone talking!
4. Personalised Cupcakes & Biscuits
If you follow our instagram account, you'll see we're obsessed with sweet treats when it comes to hen parties or bridal showers!
Personalised ones make a really lovely touch and they are super instagrammable! 
There are so many local bakers who now do personalised biscuits and cupcakes, but we have been loving the ones from The Cake Pixie recently (below), now thats some henspiration!
5. Temporary Tattoos
Lauren Conrad stirred this craze at her bachelorette party! Temporary tattoos can either look really tacky or really edgy. If you're going for classy, the smaller the better.
Temporary tattoos can be personalised if you're looking for something a bit different to the standard "team bride" ones.
A fun idea for the entire bridal party could be a tattoo that says "If found please return to [bride name] hen party!".  Other personalised tattoo ideas could be to include the groom - these are a fun way to subtly add her future hubby into the celebrations!
This image is from the ShopTattitude Etsy store.
6. Hen Party Theme
Lots of hen parties opt for a black dress code which is great for everyone as most ladies will have something black in their wardrobe. However, don't be afraid to try something different.
Relate it to the bride. If she loves yellow or gold, ask everyone to accessorise their outfit within something that suits the theme.
Poppy Delevingne had a blonde superstar theme which was some sort of play on her husband. We had a flower headpiece theme for our friend who loves flowers. The list is endless ladies!
7. Personalised & Fun Hen Party Signs!
Think of ways to incorporate something different into the hen celebrations so she doesn't feel like it's just the standard hen! Some ideas include:
A mimosa bar
A welcome sign
Balloon arch / photobooth back drop
These are just small things that really add to the overall vibe of the hen and make great photo opportunities!
We love these ideas from our friends Bach_Babes on Instagram.
8. Decorate to her style
We are absolute suckers for the details at The Hen Planner HQ.
Seriously... some cute and coordinated bunting, foil curtains for selfies - all of these details will help your hen party come to life. 
Add a hen party gift bag for everyone in party, and give the bride an extra special gift bag with personal items in. 
Ideas include: A little poem from all of the hens, a thoughtful letter, personal goodies that she loves - like her favourite snacks and/or a mini bottle of her favourite drink!
Browse The Hen Planner store for unique hen party decorations and ideas.
9.  Bring a professional photographer
So this might seem a little extravagant and out of budget, but if you're not doing a makeover / photoshoot hen party activity we REALLY recommend you getting a photographer in to get amazing shots of the celebrations.
Arrange it for when everyone will be dressed up. It's really nice to have the photos and you can do an after gift to the bride and send her a book with the hen do photos afterwards!