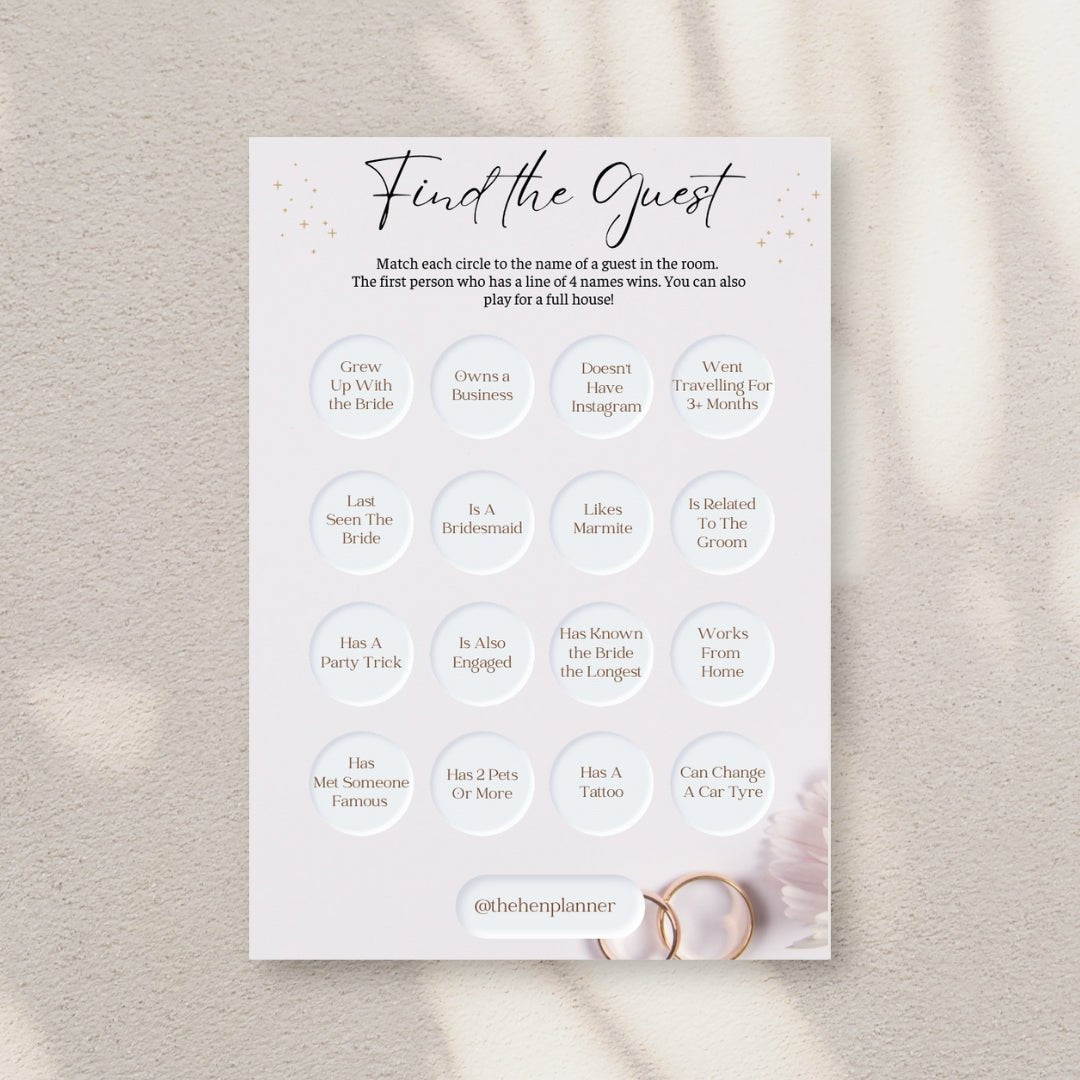 Find The Guest - Bridal Bingo (Free Printable Download!)
Find the guest bingo has to be the best bridal shower or hen party game that we've come across.  
This game will have everyone up and out of their seats and the hens will be finding things in common with each other from the get-go!


How To Play Find The Guest Bingo
 Each guest is given a 'find the guest' sheet, which has a number of circles with sayings inside like: "has a tattoo" "likes marmite" etc.


Each guest must aim to match a name to each circle.  Hens must go around the bridal or hen party and find out more about the other hens, by asking the questions on the sheet.


The aim is to get a full line of names filled out to win (4 circles is a full line on our sheet).


You can play for a full house if the hens love the game!

Why We Love It
Not only will guests find something in common with each other, but as these topics come up very early on in the bridal shower or hen do, it gives everyone a foundation of knowledge about one another which makes chatting a little easier and more interesting!
Instead of the typical small talk like "so how do you know the bride?", you'll find the hens having more fun conversations like "so where did you go travelling for 3 months?!".
This is also a fairly new game which not many hens will have played, so it's definitely a unique one that will get everyone off on a good foot!

The Free Download!
We're giving away a free copy of the sheet so you can download and print as many as you need for your hen party or bridal shower!  Simply add your email address below and once you have confirmed your sign-up, it will be sent directly to your email inbox ready for you to print! 
Instructions For Your Download
When you get access to the link of our 'Find The Guest Bingo' sheet, simply open the document and print it to a4 paper.
This link will not expire, and once you have downloaded it you can print as many as you need, as many times as you'd like!
We'd love to see how you get on with the games, so definitely give us a tag if you play and your hens love it!