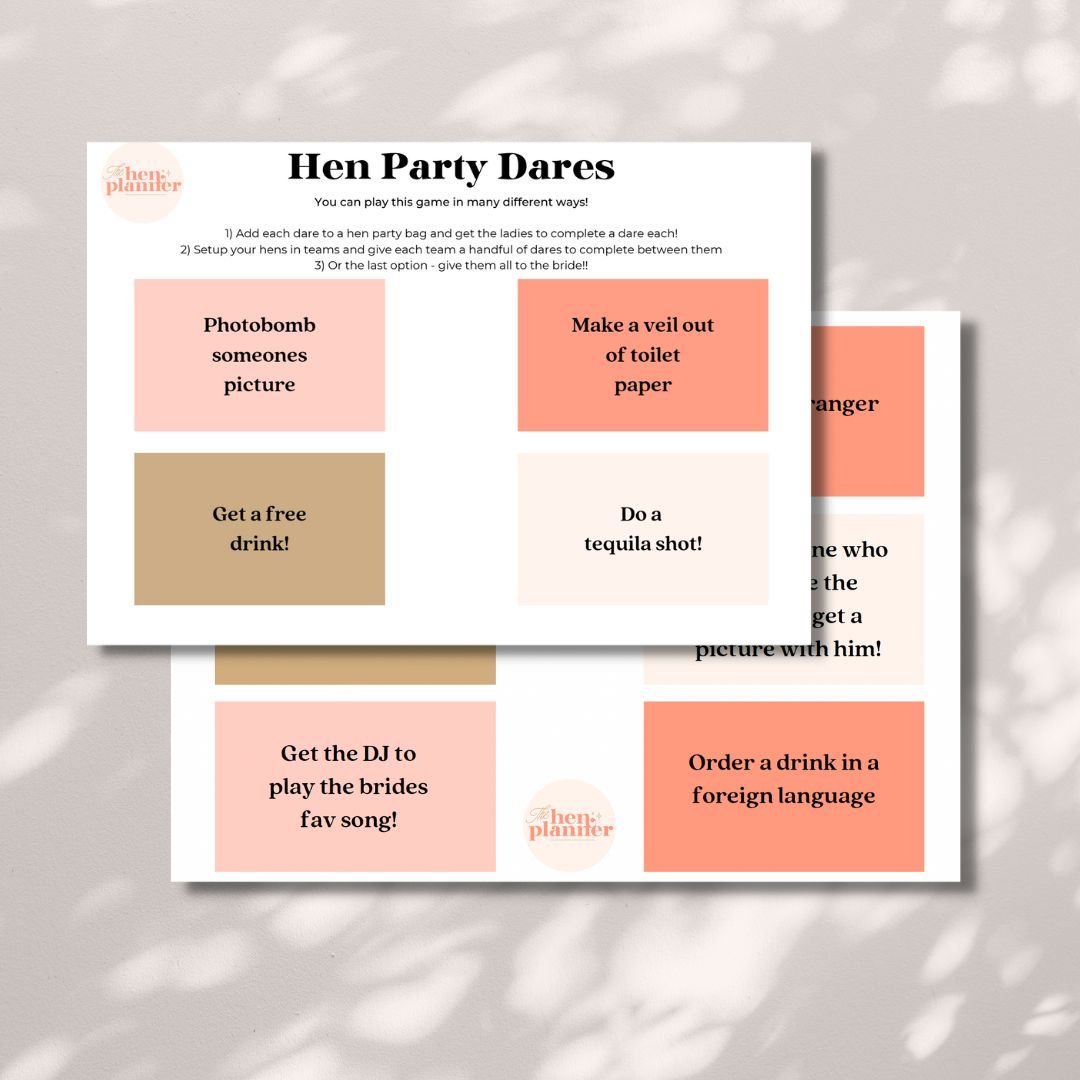 34 Best Hen Party Dares (& Free Dare Cards!)
In this post, we have given you a full list of dares you can quickly jot down for your hen party, and we have also provided a free download of 22 fun dares to print if you'd like more variety!
Jump To:
Hen Party Dares - How to Play!
Hen Party Dares are a great way of bringing some serious fun and laughs to the hen party celebrations.
They can be a great ice breaker for groups that don't know each other.
They can also work as a "pick me up" if there is a lull after too much food at dinner.  Here's the best way we recommend playing!
How To Play Hen Party Dares:
Add a dare into each hen party bag and ask the hens to complete their dare before a certain time.  (

Tip:

Remember to consider each hen and how shy or confident they may be!) The goal is to ensure everyone enjoys themselves and not to make anyone feel uncomfortable! Keep the big naughty dares for the hens who love a challenge.


Another way to play Hen Party Dares could be in a spin the bottle style way.  All hens should sit in a circle and the game master spins the bottle.  Whoever the bottle points to must complete a dare!


A third way to play is to give a handful of the dares to the bride to complete.  This is a great way to add a bit of fun into her night.


And our last but favourite way to play, is to print off all of the dares, and stick each dare to the bottom of a glass.  Give out the welcome drinks and through the evening let the hens know they have a dare attached to the bottom of their glass which they must complete!
How to score hen do dares? That's really up to you. You could do a point per dare or work out a system where the dare performance is rated from 1 to 5.  You can also just do this without a pointing system for giggles!
If you're in a rush, we can email the 22 best hen party dares to you (in printable format, which can be found at the bottom of this post):
Free Hen Party Dare Cards
You can download our FREE Hen Party Dare cards below.
Here is a preview of some of the dares - we have a range from tame to naughty that make the perfect balance for a mix for your shy hens and your daredevils! 



Print them out and give each of the hen party guests a dare to complete over the hen night fun! Simply enter your email and we'll send them to you in printable format.
The Ultimate List of 34 Hen Party Dares
This is a long list of different ideas and options. You definitely should not take on all of these!
We recommend picking your favourites and adjusting how you play and the scoring system suit you and your hen do group.

Think which ones will make the group laugh the most. You can also think of some personal dares for the bride based on her personality and style. If you know the group well, you could do customised dares for each person.
I love this one! When the next song is played, jump up & down and shout, "I love this one" Sing + dance your heart out on the dance floor.
Pucker up!

 

Find a dashing barman and give him a great big kiss (on the cheek, obviously).
Por Favour. Order a drink in a foreign accent.
Will you…

 

Go up to a random guy and get down on one knee. Earn extra points if you give him a ring made of something (think hula hoops or a paper ring).
Act of persuasion.

 

Persuade a stranger to buy you a drink.
Why hello there tiger.

 

Flirt with someone outside of your group in a funny voice
Blow.

 

Blow kisses to a stranger at the bar
Maths.

 

Lie on your back and count to 30 out loud
Italiano.

 

Convince a stranger you're from Italy
Boozy.

 

Do a shot without using your hands
Let's dance.

 

Perform a choreographed dance with all the girls
Dirty bit.

 

Ask someone to talk dirty to you
Oh my gwad.

 

Talk in an American accent for 10 minutes
Be still.

 

Stand on a chair or table and pretend to be a statue
Giddy up.

 

Have a piggy back ride off a stranger or give one
Hall of fame.

 

Make someone believe your dad is someone famous
Besties.

 

Walk up to someone you've never met in the bar and pretend you've known them your whole life
Nice wheels.

 

Get a photo of you on the front of a really nice car, posing provocatively.
Back to school.

 

Sing the alphabet backwards in under 20 seconds.
Risky business.

 

Get a guy's business card.
Tipsy.

 

Down a drink in one
Here comes the bride. Find something old, something new, something borrowed and something blue.
Wild thing.

 

Dance on the table
Do you know who I am?! Everyone has to help you convince a stranger that you are actually famous.
Work out. Have you photo taken with a man with the biggest biceps you can find.
Photobomb. Get into the background of at least 3 stranger's photos.
Mix it up. Make a cocktail behind the bar .
Pole star.

 

Do a pole dance around street furniture
Riverdance. Do 30 seconds of Irish dancing.
Wink. Wink at a man and lick your lips.
Backwards life.

 

Walk to the next pub backwards (without holding onto anyone)
Jump around.

 

Hop on one leg for 30 seconds.
Eye of the tiger.

 

Request Eye of the Tiger then do press ups on stage in a pub/club
Man Chant.

 

Get a group of unknown men to chant your name.
Summary
We would love to hear your feedback on our ultimate list of hen party dares.
What was your favourite - pretending to someone you are famous?
If you play these please let us know or tag us in your Instagram photos. #thehenplanner
Also, if you want some more inspiration, here's the 40 Best Hen Party Games.