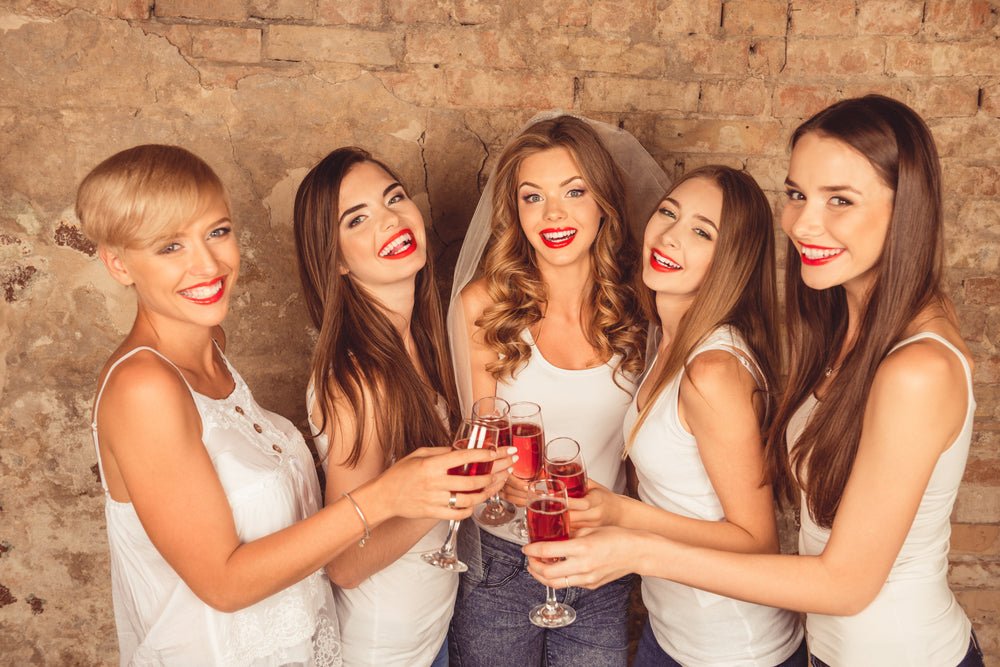 Ideas for a Low Key Hen Party in 2022!
This one is for the ladies out there who don't want a wild hen party or want to keep their hen party small!
It is not uncommon for a bride to want to keep her pre wedding bash to a small group of her nearest and dearest. This doesn't have to take from the fun and in fact can mean that a myriad of options become available that wouldn't work with a larger troop. 

For some brides, having a hen party and inviting everyone can be daunting.  Large hen parties can come with some anxiety around whether all of the guests will gel, or if the activities will be suited to everyone.
Having a low key or a small hen party means that the bride to be doesn't have to worry about any of these things, and she can enjoy the celebrations without the pressure of trying to please lots of different people or without having a huge fuss.
We've compiled a list of 11 low key hen party ideas that will be memorable and perfect for the bride to be who doesn't want a big blowout or something OTT.
Show the bride that she doesn't have to be like the rest of them and with a seriously good time without the usual hen party fuss. Let's get started…
Our 12 Best Low Key Hen Party Ideas for 2022
1. Spa Day
Nothing beats a few hours in a gorgeous spa with a relaxing tub, serene surroundings, fluffy robes, mini fruit juice shots and some chill out and chat time in the lounger.
A spa day is perfect for the bride who isn't much of a drinker.  It really is a great activity for the bride where she can mingle with her close ones and tick off the beauty treatments she needs ahead of the big day!
If you book ahead, you can get the spa all to yourselves for a few hours so you can have plenty of time to relax in the whirlpools, saunas and some of the girls can go off for treatments.
Book a special treatment for the bride herself! Afterwards, if the spa is in a hotel, head to the bar / restaurant for some lunch or snacks. 
2. Chilled girls night in
One of our classic low key hen party ideas has to be a chilled girls night in - a total fuss free option!
We love adding some personal touches to this (which probably make it more fussy but it'll be way more sentimental!) but you can go as low key as you want.
We suggest a nice hotel or suite, where you can still have a little bit of luxury and saves having to free up space at home / making up beds for everyone!
Ideas for a girls night for a hen party could be a movie night with all the best chick flicks (aka....bridesmaids!!) on play in the background. Sit around on cushions with popcorn, naughty snacks, pizza, wine and just have a laugh.
If you wanted to add to the luxury for the bride, you could also bring some beauty treatments to you like a mobile nail service or some yoga!
3. Shopping
Lunch and some shopping is a great, low key hen party option. Although it sounds like it might not be exciting, we've given some ideas below to show how you can add a few things in to make it more special and memorable!
You could all chip in on a voucher so she can buy herself something during the experience and make it more exciting. 
While out shopping, you can still make the occasion special by adding in some of the following ideas:
A Colour Consultation - This a great idea for the fashion loving bride. Please her inner fashionista without running around busy shops on a Saturday. During a Colour Consultation, you'll be given a palette which matches your skin tone, eye colour and features.  It's a practical but great gift! 


Winter markets - If you have a winter bride, take her around the Christmas markets after your shopping spree, and have a mulled wine and food to end the evening!


High afternoon tea - Break up the shopping trip with a fancy high tea at a city centre hotel or restaurant.  Harvey Nicholls do a gorgeous afternoon brunch which is perfect to slot in for a little shopping break!


VIP Personal Stylist Appointment - Another great idea is to book the bride in for a personal stylist appointment.  This is a great way for the bride to discover more about what clothing items flatter her shape.  The perfect gift for a fashion lover!

4. Crafts and laughs
In terms of small hen party ideas, getting crafty may be your best bet!  There are plenty of choices when it comes to craft activities, and they can be super fun and intimate which can be perfect for a small to medium hen party.
Craft workshops are surprisingly fun and fulfilling. You surprise yourself with talents that you never knew you had!
An afternoon of creativity, bubbles, cake and chats makes for a day of laughter and quality time with the girls.
Whether it's learning how to make your own signature scent with perfume making, creating your own master piece head wear for your next wedding or ladies day, jewellery or becoming an artist for the afternoon - there's something to suit everyone.
There are tonnes of crafty options online where you can contact the business owners directly. 
One of the latest trends we're seeing is Paint and Prosecco, or a Calligraphy workshop. It's the ideal hen party activity for a low key hen. You'd be surprised how relaxing, fulfilling and fun this is for a hen do. 
The Hen Planner's Tip… it's a really nice touch if you can create something that carries through to the wedding from jars or centrepieces to bunting.
This is something that will make the wedding even more special and give the bride something she can treasure forever.
5. Classy drinks
This is our favourite. Simple and stylish, we're happiest having some nice drinks in a cosy and ambient setting.
Book a table, get the girls to dress up and head out for a night in a piano bar, a speak easy or an intimate cocktail bar. Have a few drinks, take some photos and just have a laugh ladies. 
The Hen Planner's Tip… the more exclusive and hidden the venue the better.
6. Glamping or Camping
Wedding planning can be super stressful, so a low key hen party idea that will help the bride to be relax and hit the reset button is a night or two of glamping. 
Get her out in the fresh hair, away from distractions where she can switch off.  
If your bride to be isn't the camping type, there are glamping options including: pods, tipi tents or domes - these are lovely alternatives where she can still get a restful sleep! 

Glamping is a great option as it means you only need to bring your essentials and you don't need to buy a tent and sleeping bag etc which can cost a lot of money.
The Hen Planner's Tip… Add some fun activities into the glamping trip - like a hike somewhere to get some great photos of the scenery.  Do some star gazing, or bring some camp fire hen party games along for entertainment like the Mr and Mrs Quiz Game! 
7. Afternoon Tea or Bottomless Brunch
Another great low key hen party idea is an afternoon tea or a bottomless brunch.
This idea is great for the bride who just wants to keep it short and sweet.  An afternoon tea or bottomless brunch will last for a maximum of 2 hours and is a great way to get everyone together at once.
It's a pretty straight forward hen activity that requires little prep except for taking a few deposits!
For the bride that wants a low key hen party because she has a mix of ages, an afternoon tea works really well as she can invite everyone to that, and then with her close friends or the ladies who wouldn't mind a night out afterwards, the option is there for the night to continue, without feeling like you've left anyone out!
8. Host at Home!
One of the best ways to celebrate a hen party for a low maintenance bride is to have a hen party or bridal shower at her home.
This doesn't have to be boring - you can get some great games to play like garden limbo, prosecco pong etc.
You can also create a theme for your shower - like a festival type theme where all of the ladies can dress up. If you have a summer bride, think festival vibes and colourful outfits, or summer cocktails like pimms and aperol spritz!
Having a hen party hosted at home is great because it means guests can come and go as they please at a time that works for them, and the bride to be can also relax being in her own surroundings!
9. Virtual Hen Party
This might be the lowest maintenance activity of them all - but it is a great option for the bride who has family and friends in different locations and she doesn't want anyone to miss out.
A virtual hen party can be fun if you have the right entertainment lined up for it.  You can play so many games virtually - like Drink If? or Who Knows the Bride Best.  Mr and Mrs etc.  


10. Wine & Cheese Tasting / Night
A wine and cheese night is a lovely low key activity which can be done either at home or at a venue who can prepare it all for you for a fixed cost per person.
We love this idea as it sets the tone for a sophisticated but relaxing hen party. It will last only a few hours and it is an activity that most (if not all) hens will enjoy.
Learn about wines from different regions and discover wines you might enjoy.  
To make it more memorable, save a bottle of the bride to be's favourite as a keepsake for when the wedding is over - where she can add in some fairy lights and use it as a decoration in her home.
Hosting a wine and cheese event at home can also be fun - you could ask each guest to bring their favourite bottle and favourite cheese, and everyone can enjoy and taste each other's to explore different tastes and vote for the best one!  
11. Salon Package
Why not book in a pampering session at the bride to be's favourite or nearby salon for a girly pampering session? If you enquire, you'll find that many salons will do a girls package where you can get a blow dry, manicure and a glass of bubbly!  
Even better, book in at the salon the bride is getting her hair and makeup trial done - make it a memorable day by adding in nails, a glass of bubbly and seeing if the salon can do something special as a hen party.
This is a low key but intimate way to get the bridal or hens together before the wedding.  It is less luxury than a spa but is perfect for the low maintenance but practical bride who doesn't want a fuss.
12. Yoga retreat
Lastly, and one of our favourites! A yoga retreat might be an activity that is the polar opposite to the standard hen party, but it has made the list because it is ideal for the bride who wants to keep it small.
For the health conscious bride, this could be a great activity that she can enjoy without the need to get completely wasted!  
A perfect way to push the reset button before getting married!
Restore a little zen to the wedding planning frenzy with a weekend yoga retreat. This can be as saintly or sumptuous as you wish with options in eco centres & luxury hotels.
Summary
We hope our guide has helped you to think of some low key hen party ideas.
Maybe you have an a new trendy idea that you think we should add? We'd love to hear more suggestions!