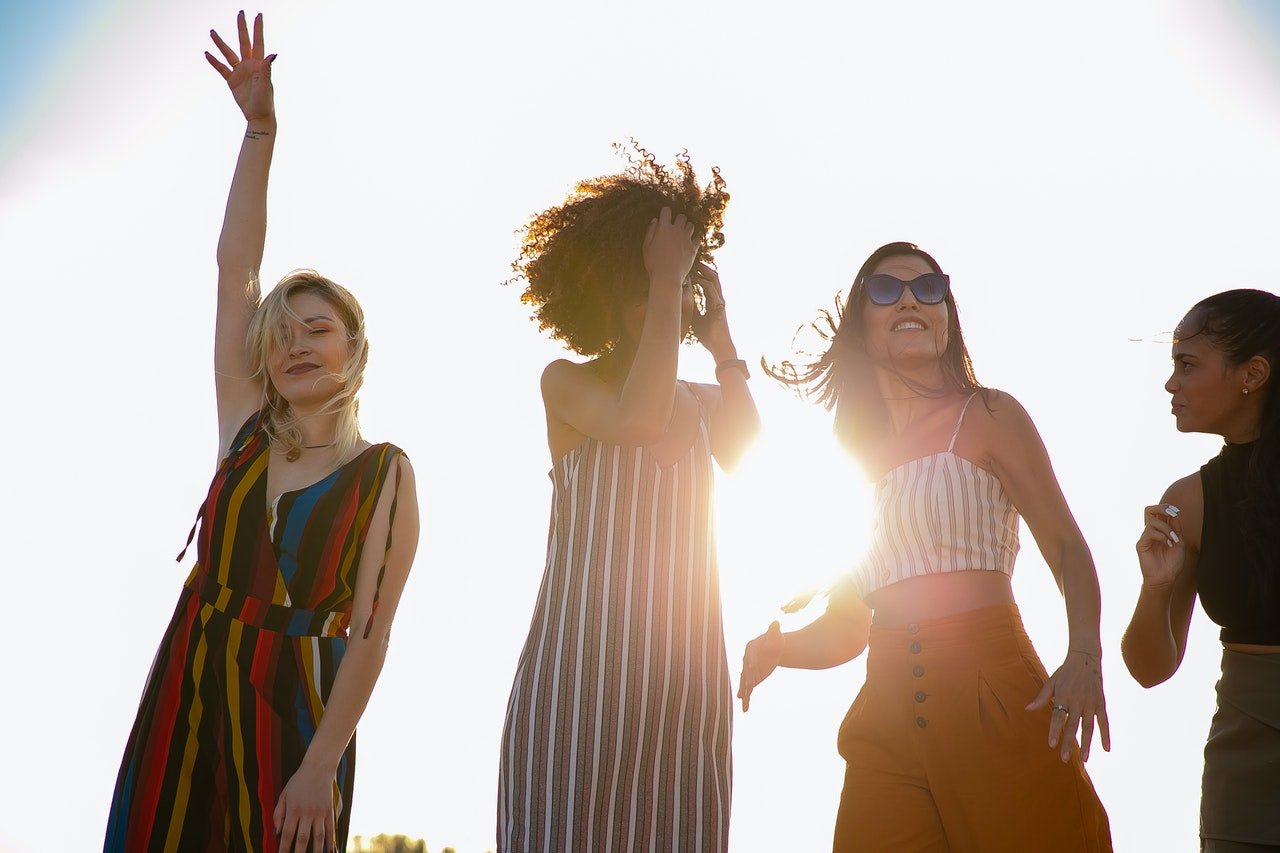 9 Hen Party Theme Ideas That Aren't Tacky
What is a hen party without a fun (but classy) theme?! In this article we cover the best hen party theme ideas that everyone will love!
When it comes to hen parties you'll have people who LOVE a theme and those who hate it. The reason some people usually dislike them is because they can be tacky, however we believe there is always way to make a theme fun and tasteful! 
Coachella / Festival Vibes
You may not be able to book Beyonce for the occasion but a thoroughly modern hen theme is the fashionista's favourite music festival Coachella.
Get the Bride tribe to channel the festival's signature boho style and stock up on florals, crochets and denim shorts and ankle boots.
You can get fully in festival mode and book a weekend in a glampsite and set yourself up with an onsite make-up bar for face painting and a diy cocktail bar.
Or you could pay homage to the theme by booking into a flower crown making workshop and getting the gang head-dressed to perfection.
And of course, make sure to get plenty of insta snaps of the festival style. Alternatives to this are metallic or glitter party themes.
A must have accessory is floral crown or veil, our hen party tattoos or some our statement hen party sunglasses, the coolest accessory for the festival loving bride!  Check out our full article on how to throw a festival themed hen party here!
Decades - (70s Disco is Our Fav!)
Choosing a decade for a theme is a great way to tie in outfits, music of the era and decor!  20s through to 90s are the most popular - with 70s being our absolutely favourite for the glitz and glam! 
A 70s theme is a great choice as it gives you a range of activities that tie in so well with the aesthetics! What about a silent disco, karaoke, pop quiz or rollerblading?! 
For the outfits, you could ask the hens to attend in general 70s wear - flares, bright colours or disco style outfits, or you could take it up a level and ask the hens to come as their favourite 70s stars (giving the bride the first choice, obvs!).  Some 70s chicks include pink ladies from Greece, Abba, Cher, Dolly Parton, Steve Nicks, Sandy (Greece).
 For decor, disco balls add lots of colour and make beautiful photo props.  You can also add silver or gold balloons, and you absolutely need a foil curtain to add to the disco look!
Monochrome
When in doubt, this is always a safe go to! Round up all the ladies in their LBD or hot jumpsuit and make sure your bride is wearing her best white dress or outfit.
This is a great way to make the bride to be stand out, it is also low-cost for the rest of the hen party because...who doesn't own a LBD?!
If you're heading away, swap the dresses for bikinis and don't forget to get the winning Insta-shot!
Throwback 90s
There's nothing like a bit of nostalgia to get a hen squad in a party mood, so if the bride has a favourite throwback girl band that make great dress up (aka spice girls!) or a favourite movie, it could provide the inspiration for a fun blast of the past.
Classic teen movies like Clueless, Legally Blonde and Mean Girls also provide acres of costume inspiration aswell as very quotable lines. The girl gang should have lots of fun trying to recreate some of Cher Horowitz's iconic looks.
A throwback playlist is essential! Alternatively keep it more open and go for a decade you were born in hen party theme.
Disney Theme
Go all out and have a Disney themed hen! All hens can dress up as Disney princesses (giving the bride first choice!), or their favourite Disney character!
You can make it classy by keeping the outfits glam but adding more Disney touches to the decor and food - like Disney themed invites or a Mad-hatters style lunch!
We wrote an article with lots of ideas on how to create the perfect Disney theme hen party - from ideas on how to turn the bride into a Disney princess for the invites using a Snapchat filter to cocktails you can make.  
First Letter of Her Name (or her New Surname!)
What better way to celebrate the bride than to ask everyone to dress up as someone/something with the first letter of her name or the first letter of her new surname! This might sound very odd for a theme, but it becomes great fun on the day as the costumes that people will turn up in become extremely random, adding to the laughs!
This kind of theme allows guests to be creative, and the bride can either come as herself or dress up too!
Pyjama Party - Netflix and Chill(ed cocktails)
For the low key bride, a pyjama party makes the perfect theme.
Ask everyone to come in their pjs, order a pizza, make some nice cocktails and have a chilled evening watching Netflix (we recommend Bridesmaids!!) and having a pamper evening!
The Brides favourite boxset could provide you with great ideas for a modern hen party theme. Netflix favourite Stranger things is perfect for eighties inspired fashion. 
This is generally a lovely theme for the bridal party or a small hen party which is a much more intimate and personal.
Masquerade 
Masquerade fancy dress is a classy but fun theme for a hen party!  
With art deco decor including vintage style cocktails, serving trays and a dash of sparkle with a foil curtain or fairy lights to set the scene, this will look amazing for the 'gram!
Ask the hens to match the theme with their dress code - sparkles, feathers and masks!  The bride could come along in white with a white masquerade mask to ensure she stands out!
 Superheroes
A superhero theme is one of the most fun to do for a hen party as the outfits will stand out and make for fun photos! Think Batgirl, superwoman, power rangers, wonder woman - the list goes on and there's plenty to choose from!
This is a great theme if you want ease! Simply ask all hens to buy or make a costume for the hen party.