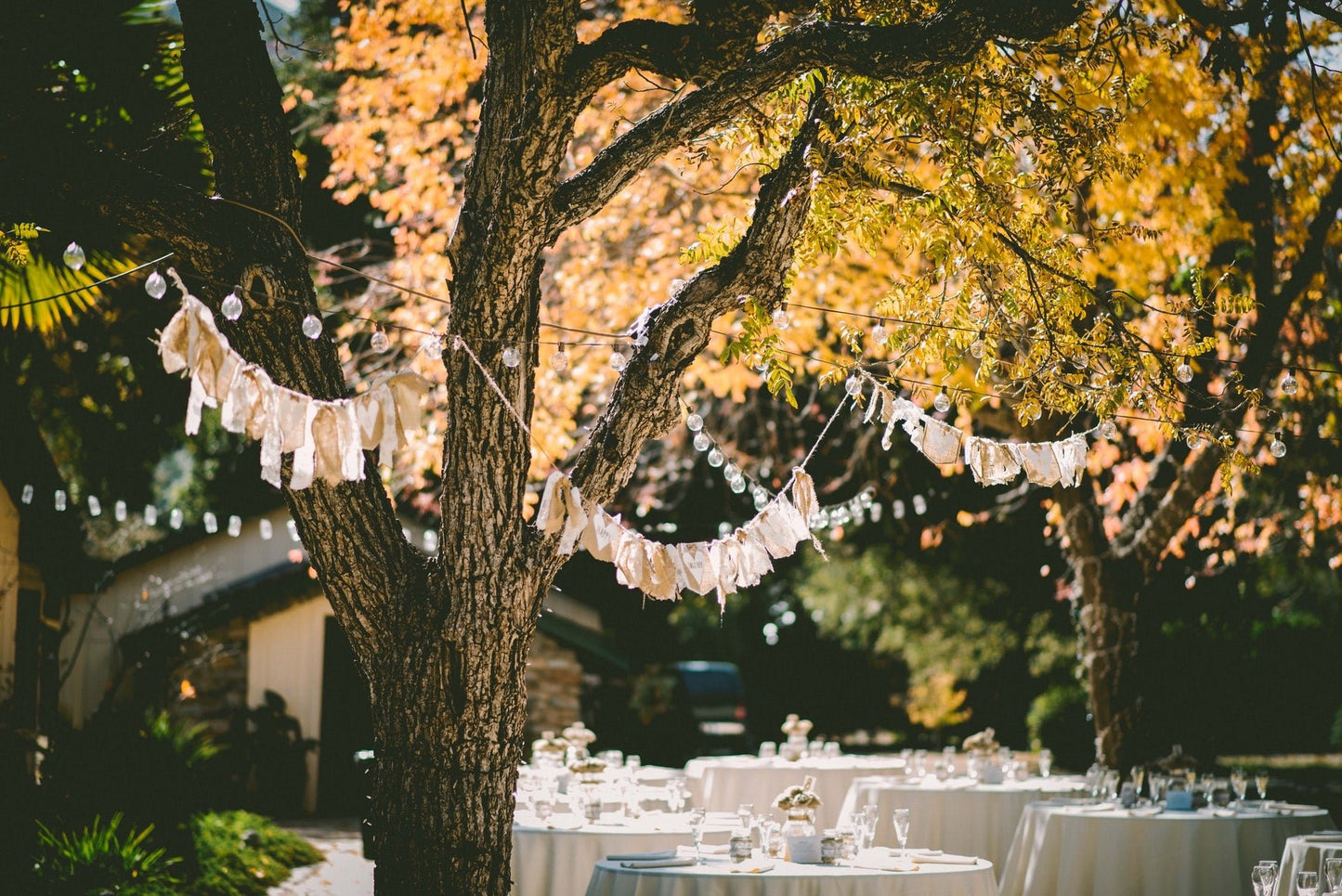 How to Throw a Festival Hen Party!
If you have a music loving bride and her hen party falls during the summer, then why not throw her her very own festival hen party?! 
In this article, we give you a list of festival hen party ideas and some inspiration from a real hen (Tori) whose sister and mum organised her very own TORICHELLA!
We hope you love this article and the ideas - and we'd love to see any photos of your own if you use our inspiration to plan your own!
Jump To:
Festival Hen Party Ideas
A festival themed hen might sound like a glorified garden party, but wait until you've seen our ideas on how to take it to the next level.  From food and drinks ideas down to the smaller details like invites and lanyards, we have covered everything you need to consider to really elevate your party!
Preparation & Location
Remember, we're blessed with the not-so-great British weather, so that means just like any festival in the UK, you might want to prepare for rain.  So, a festival in a private garden where you can get a marquee if it starts to rain is definitely advised!
We recommend hosting it in the garden of someone within the bridal party (like Mother of the Bride/Groom or Maid of Honour)m so you can do plenty of preparation without the bride guessing what is going on!
Lucky Tori got a BIG surprise when her sister and mum organised a her very own festival in their back garden. Be inspired by this dreamy boho hen party with impeccable Coachella style outfits, complete with a tipi, glastonbury style lettering for TORICHELLA, fairy lights, candy floss cocktails and lots of fun games including twister and the toilet paper wedding dress game. 


To make this event feel extra special, we recommend sending out special invitations to the entire hen party so everyone can save the date, and we also recommend sending one to the bride nearer the event.  
Get creative with the invitations by looking at Glastonbury or Coachella's line up posters and creating an invitation in the style of those!
Some ideas for things to include in the invitations are:
Date & location of event
Types of artists you'll be listening to (more to come on that later)
Dress code
Food and drinks / if this will be included
Any games you might play
Food and Drinks
Remember to find out from the guests who are attending if there will be any dietary requirements!  For the food and drinks, really try to think of festival inspired foods.
You could buy some disposable paper plates like you'd get from a burger van, or you could buy some pretty paper plates and decorate a picnic grazing table for the ladies to help themselves.  Small touches like the table cloth, colourful napkins and plates can definitely add to the overall effect!
Lets' not forget drinks!!  For the drinks, we definitely recommend being creative by adding a special cocktail to the list whether it be a jug of Pimms, or candyfloss cocktails likes Tori had for hers!
Why not consider hiring a mobile cocktail bar for a few hours to make the occasion feel even more special? Split between a large group, this can actually work out to be cost effective!
Dress Code
Don't forget to let the ladies know that there is a dress code!  If the bride to be is to wear white, make sure no one else is coming in white as it is a common outfit colour for a festival!
Tell you hen party to think boho style - floral dresses, tie dye tops, bandanas, floral crowns, face glitter and sequins!
Decorations and Accessories
Now this is the fun part! For a festival hen party, we definitely recommend going all out on the decor.  We have listed ideas below of items you can buy to help you make the space look amazing!
Fairy/garden lights - draping lighting across the garden will help to set the mood when the sun starts to go down!
Lanterns
Tipis - You can buy small teepee tents and put cushions inside for chill areas or decorate the inside with photos / a place to put the bride to be's gifts
Festival bunting or streamers
A festival sign! Like the 'TORICHELLA' sign made from foam, you can get the girls in the bridal party to chip in and make your own DIY lettering in the style of the famous 'glastonbury' sign on the hills.  Alternatively, you can keep it simple and get a framed sign of the name of the hen festival! Remember to have your own hashtag!
Picnic blankets 
Large festival style cups 
Lanyards! We can't recommend this more - you could print out your very own itinerary and put it into lanyards for the ladies who are attending
Wrist bands 
Temporary tattoos - these really add to the fun!
Garden games - Fun games like twister or beer pong are other accessories you can bring to mix up the entertainment!
The Husband as a DJ - Another fun idea is to get a cardboard cut out of the husband and place him in front of the speaker / laptop setup.  This is a great way to bring some laughs.  If you can get a photo of the hubby wearing some large headphones to add to the role, then even better.  Contact us for cardboard cut-outs, as we can do these for you!
Sparklers - well, because they just look great in photos!
One of the best ways to celebrate the bride to be with a festival themed hen is to give her her very own festival name!
Some first names don't quite work with "Chella" (Coachella spin off) on the end, or "onbury" (spin off for "Glastonbury"), but there are a list of other famous festivals you can try to work with! Here's a list of festivals that could work!
Glastonbury
Coachella
Primavera
Summerfest
Creamfields
Download
Tomorrowland
Lost Village
If the name of your bride to be just ain't working with any of these, you can use "fest" on the end of her name and that should do it! 
If this still doesn't sound right - just go with 'HEN FEST' which fits perfectly!
Music Playlists & Ideas
If you had any featured artists on your invitation, make sure to add those to your playlist! We recommend a spotify playlist that everyone can add to - make sure the bride has all of her favourite songs in there.
Did you know you can actually find Glastonbury and Coachella playlists on Spotify? This is also another option.
We recommend some fun but easy listening tunes for the day time, and some 'dancier' tunes as the day goes into the night. For the evening, we have a great Hen Party Playlist which has some fab tunes from Rhianna, Beyonce, Justin Timberlake and more! You can find this playlist here.
Finally on the music topic - don't forget to bring along a good speaker with a charger so that you have music all day and night!
The Evening
When the sun goes down, the party doesn't have to end.  If you're worried about the neighbours getting annoyed with the music as you move later into the evening, why not consider getting a fire pit and some marshmellows?
This will help to naturally bring the night to an end as you discuss stories around the fire and enjoy the company with the bride before the end of the evening.
And Finally....Win some bridal goodies!
We would love to see photos of your very own festival themed hen if you have taken inspiration from our article.  For a chance to win some bridal goodies and be featured in our article, email us hello@thehenplanner.com to share your snaps!