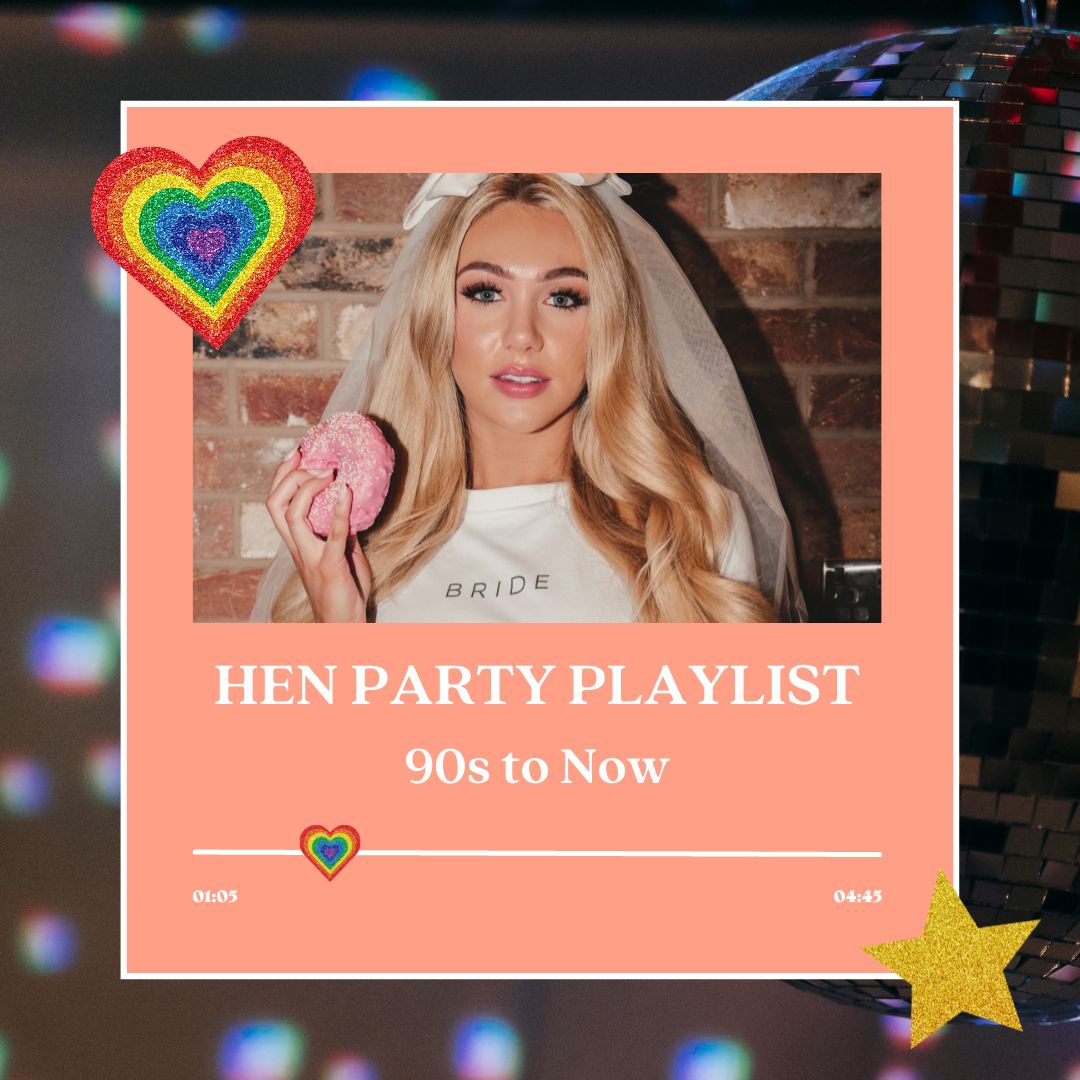 The Best Hen Party Playlist To Get Your Hen's Up Dancing!
If you have a Hen Party coming up and you're wanting good vibes with a good playlist, we've got you! Last month, we organised a Hen Party in Newcastle - and trust us, those geordie's can go all night... so we knew we needed a playlist that would not only get the party up dancing, but also last for at least a few hours.
To save you time, we've shared our Spotify Playlist - "From 90's to Now!" - a fun collection of songs from the 90's to the current charts.  This playlist will last for a little over 3 hours - perfect for the evening or for some dancing!
We can say that we have tried and tested this playlist and the hen party absolutely loved it!
Tip: By taking a spotify playlist, you can also take requests from the hens before the hen party, and add a song of each persons choice to ensure everyone has something they love!
Follow us on Spotify for even more wedding and hen party playlists!
Here are the top picks from our playlist!:
Crazy in Love - Beyonce
Power - Little Mix
Breathe - Blu Cantrell, Sean Paul
Five - Greatest Hits Megamix
Levitating - Dua Lipa
Wild Ones - Flo Rida
I Wanna Dance With Somebody - Whitney Houston
Love On Top - Beyonce
Dirrty - Christina Aguilera
BED - Joel Corry, David Guetta, RAYE
Break Free - Ariana Grande
Get Busy - Sean Paul
We Found Love - Rhianna, Calvin Harris
Call Me Maybe - Carly Rae Jepsen
Bootylicious - Destiny's Child
Just Dance - Lady GaGa
Blurred Lines - Robin Thicke
4 Non Blondes - Whats Up? (I Said Hey, What's Going On!)
Proud Mary - Tina Turner
Hot in Herre - Nelly
Super Bass - Nicki Minaj
Get Right - Jennifer Lopez
Blinding Lights - The Weeknd
Release Me - Agnes
Mr Brightside - The Killers
We hope you love the playlist!
If you're also looking for other ways to get your Hen Party vibing, check out our Hen Party Games to keep the fun going!