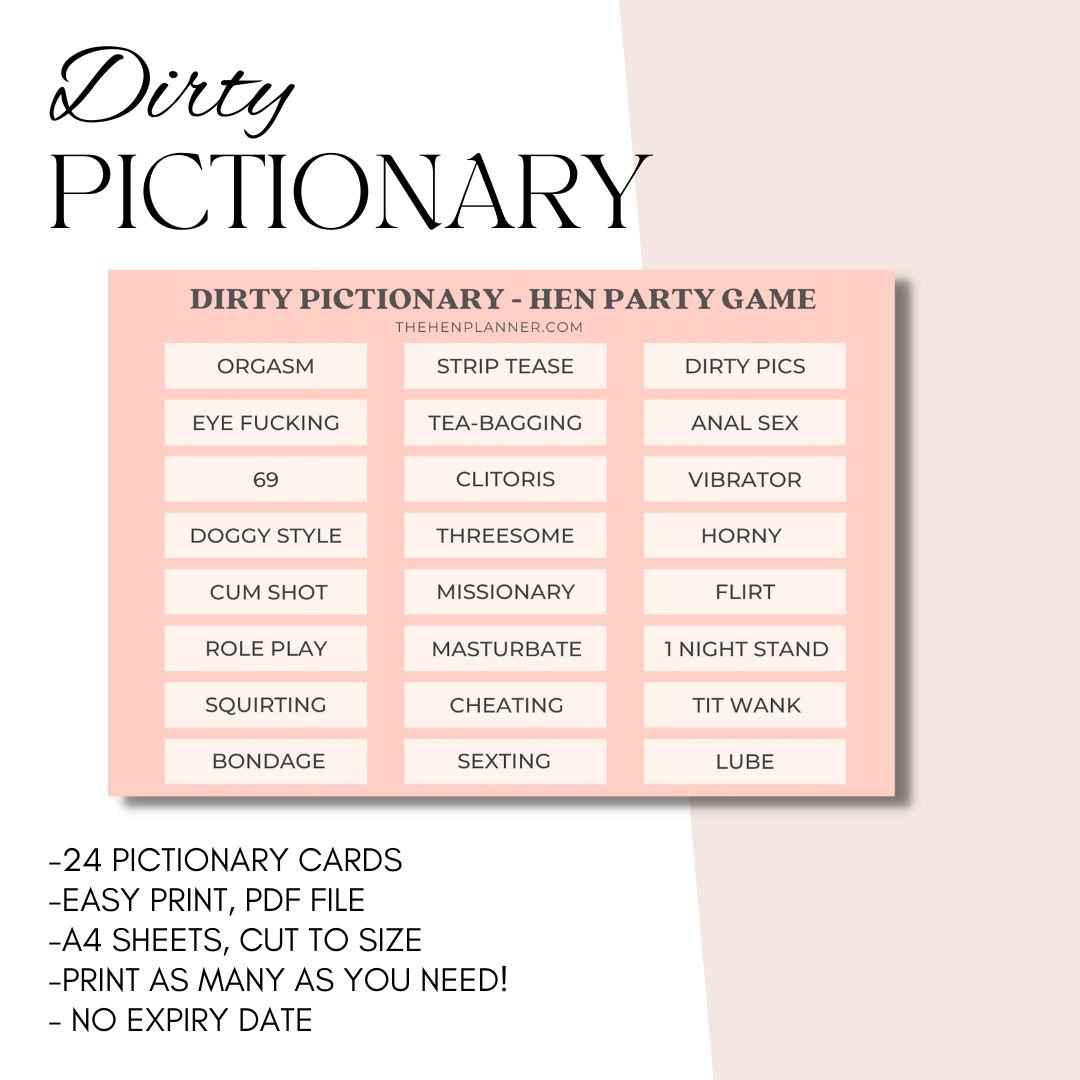 Dirty Pictionary: Naughty Hen Party Game
Ooooooh, naughty naughty! Dirty Pictionary is a classic for any party!
We usually steer clear of anything too naughty however we do sheepishly wave our hands as big fans of the dirty alphabet game after a few glasses of wine or cocktails.
It is a hen party after all, and you're supposed to have the most memorable night (or weekend) possible, so why not throw in a game that will get all of the hens laughing and the bride blushing!
Below you can print out our very own Pictionary quiz, and we have ran through the rules on how to play - it is so easy and requires no prep which is perfect for you MOH's and Bridesmaids.
WARNING! This game is not for the faint hearted! We have put some dirty words in here so it might be worth checking that Mum and Grandma are coming before planning this game!
Dirty Pictionary Game - How To Play
Print out the game below.
Cut out all of the dirty words and throw them into a hat or a bowl
Fold each word up and throw them in a hat / bowl or whatever container you have available.
Take turns pulling out a clue - each hen should have a word.
Each hen must draw the word and the rest of the hens must guess what she is drawing!
Dirty Pictionary Free Printable Download! 
Well that's it, we hope you have a blast with your hen do and we'd love to hear how this game went down with the hens!
If you're looking for more games to be prepared with for your hen do, here's our 40 Best Hen Party Games. You're bound to find more games that are perfect on this list - we have provided some that are a lot tamer for when Mum and Grandma are present - like Pass The Parcel Hen Edition or Prosecco Pong!
Share Your Pictionary Drawings & Win A Bridal Gift!
Share you pictionary drawings with us on Instagram by tagging @thehenplanner for a chance to win a gift for the bride to be! We can't wait to see them!