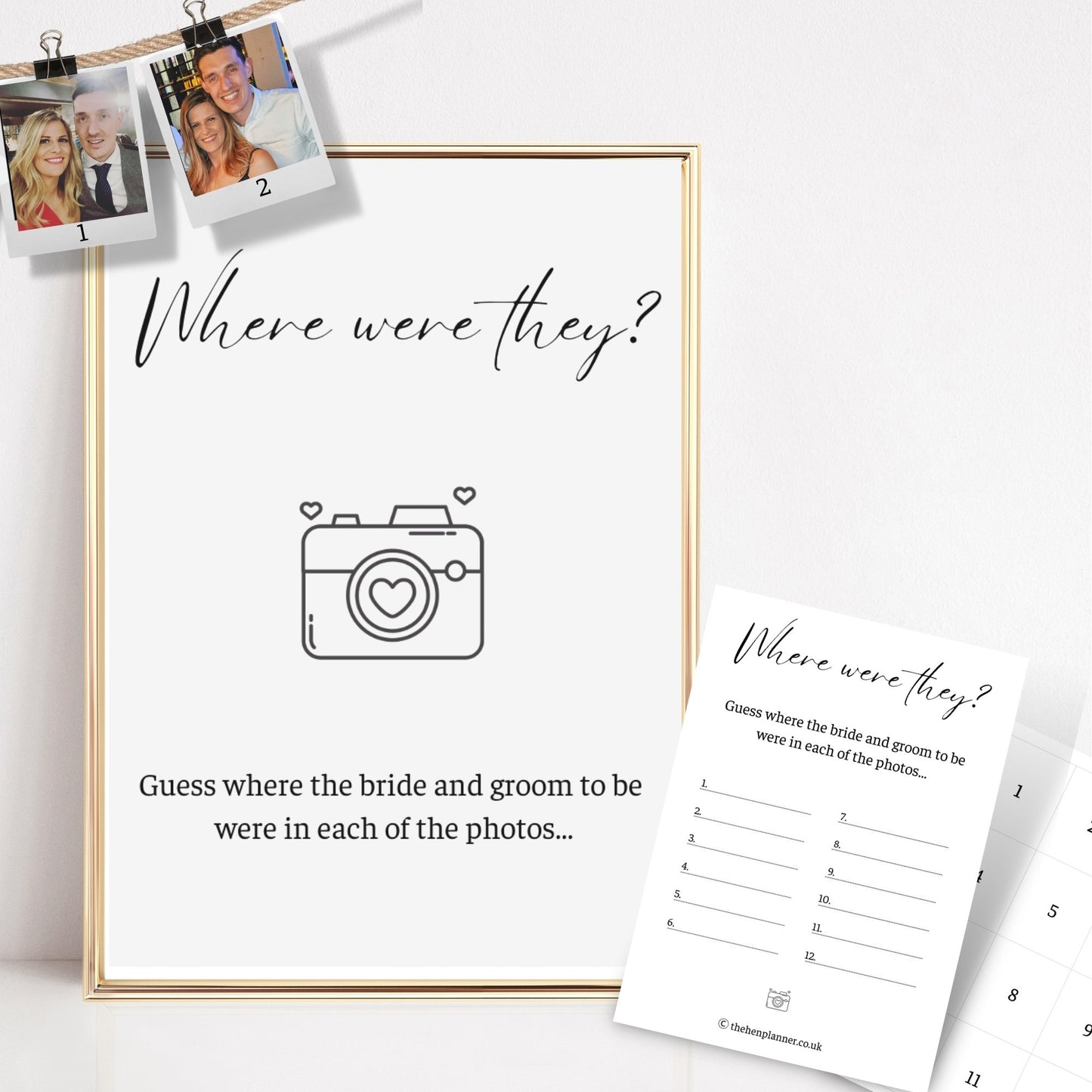 Where Were They? Bridal Shower Game Download
Take your bride-to-be and hen party guests on a trip down memory lane with our printable bridal shower game download "where were they?".
If you're not sure on the rules, we've provided a summary below on how to play!
The bride will love this game as it creates a personable and sentimental touch to her hen party or bridal shower celebrations!
How To Play 'Where Were They?'
The idea of the game is to get a collection of photographs of the bride and groom-to-be, and ask the guests to guess where they are in the pictures!
 Get up to 12 photographs of the bride and groom, and place them on a table or stick them to a wall.  Give each photo a number (we have provided numbers on our printable download, which you can cut out and place the photos on top.
Download and print our 'where were they?' sign onto A4 paper, cut to size and pop it in a pretty frame (the sign is 5x7inches).
Print out the quiz sheets which are numbered 1-12, so that guests can provide their answers for each photo.
When all guests have filled out their sheets, the bride will reveal the location of each of the photos. The guest with the highest score wins!
Free Download 
What's Included?
When you sign up using the form above, you will receive an email to confirm your email address.  Once you click confirm, we will send an email directly to you which contains your free download.  
In the download, you will find:
1 x 'Where Were They' 5x7 inch design.  This design should be printed and added to a frame for extra glam! It can otherwise be placed on a table.
1 x Quiz sheet which can be printed as many times as you need for as many guests as you have coming to the bridal shower or hen party.
1 x Number sheet (up to 12 numbers).  These numbers can be printed and each photo can be placed on top of the numbers (or you can stick the photos to the numbers if you're putting them on the wall).  Alternatively, you can add your own numbers to the photos if needed.
This printable will not expire, and once you download it, you can print as many times as you need.
Enjoy!