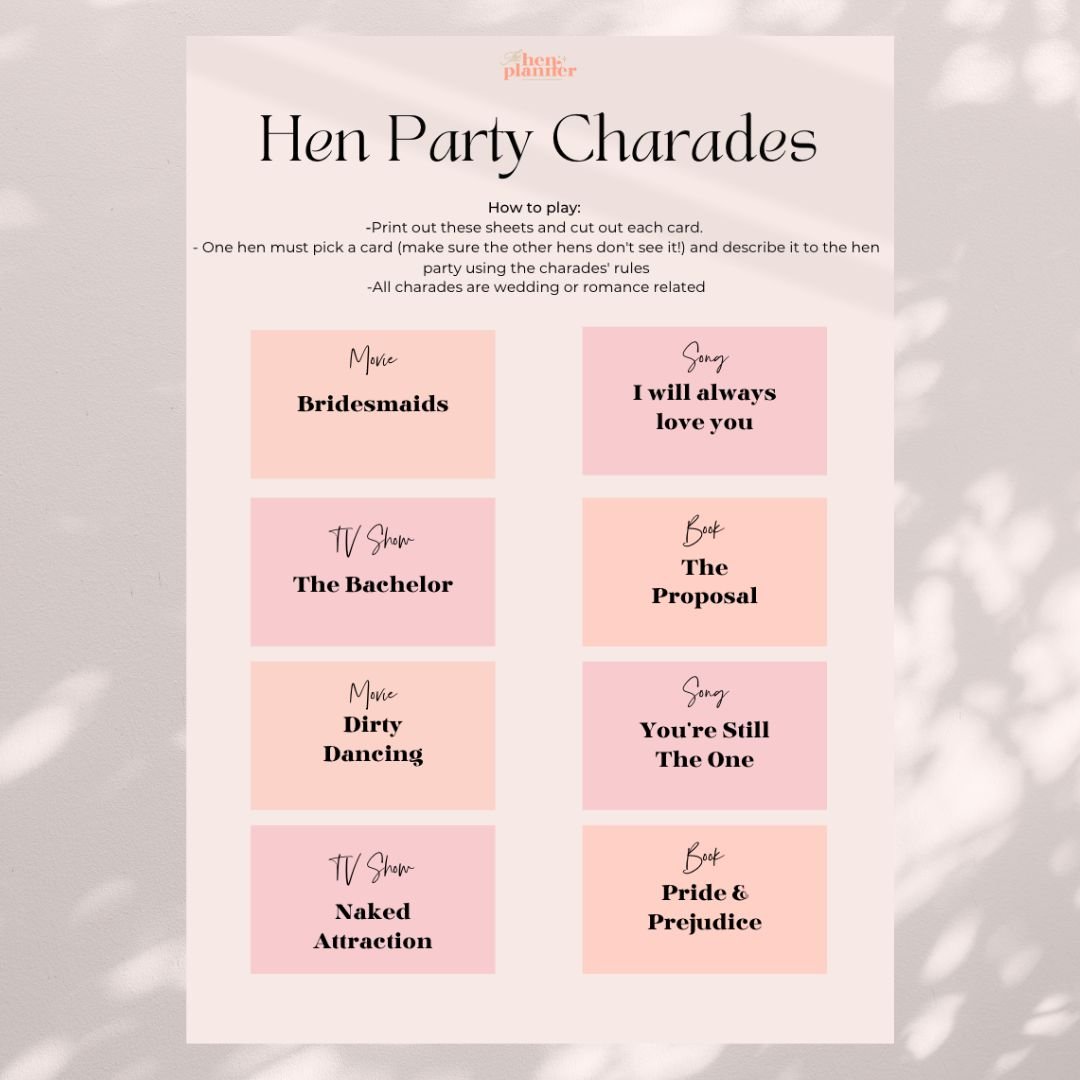 Hen Party Charades - A List Of Ideas & Free Printable Download!
Who doesn't love a game of charades, especially when the theme is love & marriage?
Because everyone knows the rules of charades, we decided to create a free bridal shower or hen party game which will get everyone up and laughing!
This is the perfect icebreaker, with some easy cards as well as a few challenging ones to make it more fun!
How To Play Hen Party Charades?
We're assuming that everyone knows how to play charades, but if they don't then check out the general rules of charades here.


When you've cut out your charades cards, make sure no one can see them and ask the bride to kick off the game by picking the first charade to act out.


Everyone must guess what the bride is acting out (TV, Movie, Song or Book).  She will give you clues like "number of words", "first word sounds like..." etc).


The first hen to guess the charade correctly is the next one up!  The next hen should pick her charade and act it out.


Repeat until everyone has had a go of acting out their charade
Our Free Hen Party Charades Download!
Our free hen party charades include 36 cards which you can print onto a4 paper and cut out.
We have added in:
TV Shows
Songs
Movies
Books
All of the categories have a wedding or a romance theme, perfect for a hen party or bridal shower!  Think charades like The NoteBook, Bridesmaids, Love Island... everyone will know them - we have added in some trickier ones too so it isn't too predictable!

A List of Hen Party Charades Ideas
If you wanted a quick list of charades to write down on paper and skip our download, we've provided some ideas below for you to use!
Movies
Love Actually
Pearl Harbour
The Notebook
Clueless
Topgun 
Notting Hill
Moulin Rouge
La La Land
Pretty Woman
True Romance
Titanic
A Star Is Born
Crazy Stupid Love
When Harry Met Sally
Sleepless in Seattle
Grease
The Wedding Singer
Ghost
Fifty Shades of Grey
The Best of Me
Magic Mike
TV Shows
Twilight
Gossip Girl
Naked Attraction
Love Island
Wife Swap
Friends
Bridgerton
One Tree Hill
Normal People
How I Met Your Mother
Sex And The City
Desperate Housewives
After Life
Songs
Marry You
I Will Always Love You
If I Aint Got You
Love On The Brain
At Lasy
My Heart Will Go On
Love Story
Sex On Fire
Crazy Little Thing Called Love
Unchained Melody
Just The Way You Are
I'd Do Anything For Love (But I Won't Do That)
Can't Help Falling In Love
My Girl
Best I Ever Had
Crazy In Love
A Thousand Years
Make You Feel My Love
Love Me Harder
Books 
Gone With The Wind 
Romeo & Juliet
PS I Love You
To Kill A Mockingbird 
Pride And Prejudice
Jane Eyre
Wuthering Heights
A Walk To Remember
Beautiful Disaster
To All The Boys I've Loved Before
The Proposal
The Bride
The Time Travellers Wife
Morning Glory
Dark Lover
The Wedding Date
Me Before You