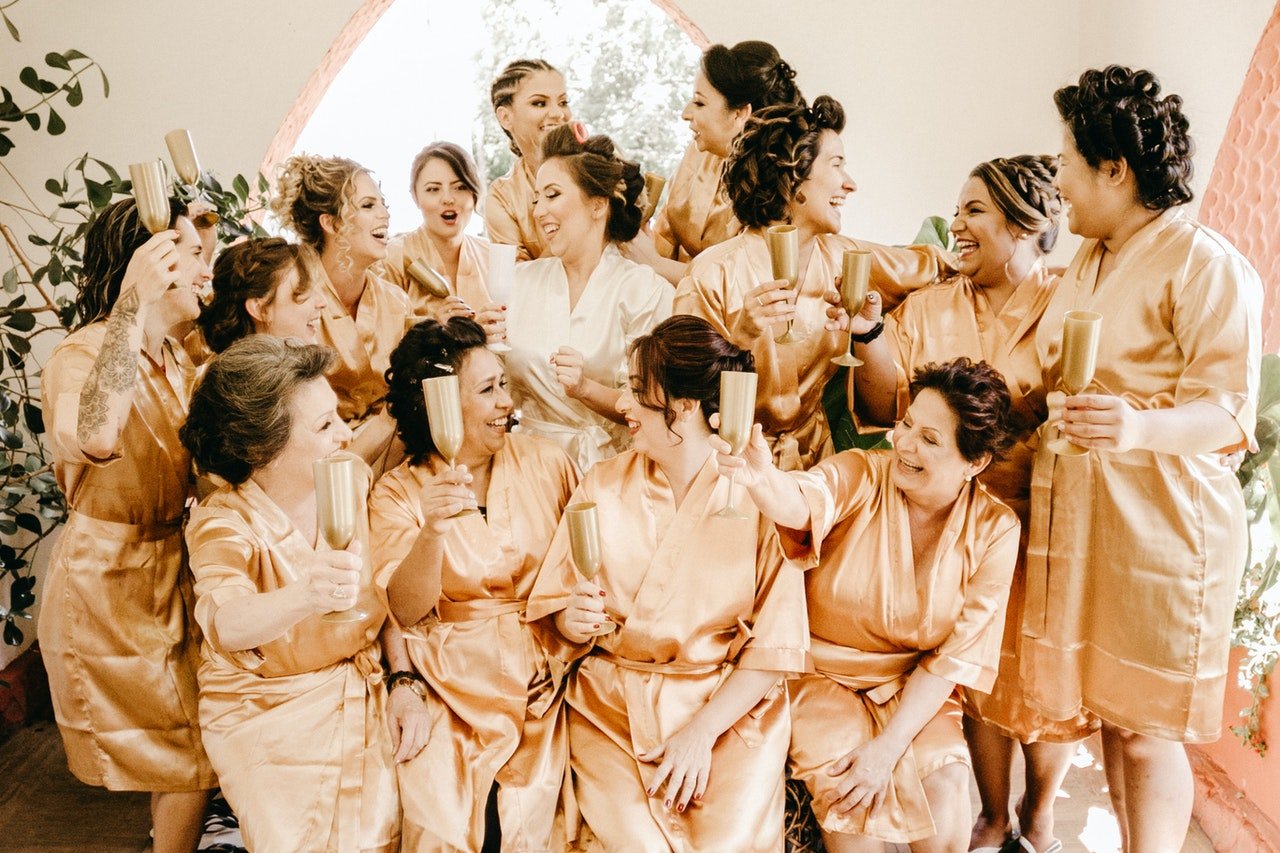 Thoughtful Wedding Morning Gift Ideas For The Bride
Updated 18.11.2022 


In this blog, we give you the best gifts that a friend, bridesmaid or maid of honour can give to the bride on the morning of the wedding!
The wedding is fast approaching and it's time to start thinking about all of those finer details - including the gift for the bride.  In this article, we've listed some lovely wedding morning gift ideas for the bride.
Giving a gift to the bride on the morning of the wedding (no matter how small it is) will make the gesture way more special and it will be something to remember for a lifetime.  
To help you out on your way to becoming Bridesmaid(s) of the year we have compiled a list of little gift ideas you can put together to make the wedding morning that little bit extra special for your girl before she walks up the aisle to start her life as a wifey.
We are fully aware that being Bridesmaid can often be a costly experience so we have kept these little gift ideas budget friendly with a few less budget conscious alternatives thrown in for good measure
1. Bridal Party Robes

Why not get a bunch of matching robes for the Bridal party to wear on the wedding morning while all the beauty preps are going on. These can be lovely keepsakes for all as well as make for fabulous photo ops on the morning with all the girls matching.
Make sure to check with the bridal party including the MOB (Mother of the Bride) however, incase this has already been thought of and purchased beforehand!
Robes are such a simple idea and can be done on a budget where necessary too. With a range of options on Etsy where you can also choose embroidery options, and other online stores like BooHoo, the options are endless and you can find everything from budget friendly to luxury and high end robes.

2. A Wedding Playlist
A nice cheap and cheerful gift idea for the Bride-to Be is to compile a list songs on Spotify to play on the wedding morning. A compilation of wedding day type songs, e.g. Going to the Chapel – The Crystals or Love and Marriage – Frank Sinatra is sure get everyone in the mood for the festivities.  
Or if your girl is more likely to be kept calm with a playlist of her favourite jams, then we recommend adding those in - or even mixing it up!  Either way, the gesture will be appreciated and it is a playlist she can keep forever!
The options here are endless and as long as they are suited to the Bride's tastes you are sure to get everyone in good spirits!!
Why not create a little gift card with the Spotify playlist link inside so that she knows you created it, to make it even more thoughtful?
3. 'Morning of the Wedding' Candle
A wedding day or morning of candle is the perfect gift for setting the ambiance right with a calming smell - helping her to keep her nerves at bay!
A candle makes the most perfect gift because after the wedding, the bride to be can keep the jar as a reminder with the leftover scent of the morning of her wedding.  We can promise you that this makes a truly special gift even though it sounds very simple - it is definitely one she will cherish.
There are many candle options to choose from on Etsy - and other brands like Yankee, Katie Loxton and many more offer a range of perfect scents for her special day.
4. Wedding Day Emergency / Survival Kit
Your girl needs to look and feel her best all day long, and it is a long day. Therefore it's a must to have an emergency kit to hand for her should any mishaps or beauty faux pas occur.
The list for what makes up a good wedding day emergency/ survival kit is endless and to be honest I think it should always be specific to the Bride in question.
Maybe she wants to have her fave lippy to hand for all those photo ops. Always useful to have a small sample bottle of the foundation and powder she has used for her Bridal makeup look to hand too for freshening up her look as the day progresses.
Other useful items include (and are certainly not limited to) mints or gum, floss, sewing kit (surprisingly useful), safety pins, hair clips, paracetemol, bandaids, deodorant, hairspray, rescue remedy (tensions can run high ), nail file and maybe a tester bottle of her favourite perfume. Just to name a few  You will know best what bits and pieces your girl will need/ want but overall it's a great way to show her that you've got her back no matter what happens throughout the day!
We love this ready made kit by Kate Aspen - perfect if you don't have time for DIY!
5. Mrs T-Shirt or Sweater
When the wedding is over, the honeymoon is the next thing to celebrate! A perfect gift for travelling to and from the honeymoon is a "Mrs" t-shirt or jumper to keep the celebrations going!
Once she's a wifey she will want to shout it from the rooftops - so treat her to a new wardrobe essential that can become her go to choice for the weeks after the wedding!
Shop our Mrs t-shirt or Sweater here.

6. A Scrapbook or Photo Album

This gift is one of our favourites! If you've known the bride to be for a long time, a lovely idea for the morning of the wedding is to create a photo album or scrapbook of all of the memories you have shared with the bride.
Something personal like this is a great touch as she will reflect on her old life before she ties to knot and takes the next step into her new chapter.
7. A Sentimental Piece of Jewellery

Jewellery is one of the best gifts to give at a wedding.  You really can't go wrong with a special bracelet, necklace or pair of earrings or a lovely ring that the bride can either wear on the day of her wedding, or as a sentimental gift that she can wear after her wedding on special occasions.
Buying a gift as a Maid of Honour or a Bridesmaid? A lovely infinity necklace could be the perfect gift to mark your never ending friendship! Try to buy a piece of jewellery which signifies something special.  Jewellery with crystals and meanings can also be a great gift - for example, Rose Quartz signifies 'unconditional love', and Sapphire stones are known for attracting happiness and peace.  Something sentimental with thought behind the gift will go a long way.
Pearls are also a special type of gift that will go down a treat on the wedding day!
Swarovski, Tiffany's, Pandora and Beaverbrooks all have a gorgeous range of bridal and gifting jewellery options which suit a variety of budgets.
Tip: If you're buying some jewellery with the hope of the bride wearing it on the wedding day, make sure to communicate with other members of the party like the Mother of the Bride, Maid of Honour or the Groom to ensure that the bride doesn't already have her jewellery sorted.
8. Perfume
Perfume makes a great wedding morning gift - but only if it has been agreed with the bride or with her closer bridal party members!  Perfume is extremely sentimental for the wedding day as it is a smell that will bring back all of the memories whenever the bride wears or smells the perfume she wore on her wedding day.
Find out what scent she loves and what would be ideal for her on her wedding day, and if it is within your budget, this can make a great gift - even if it isn't a big surprise it will be one she will forever remember,
It is common for the Groom or Mother of Bride to purchase the perfume, so just make sure that you check in first with them!
8. Personalised Champagne Glass
A personalised champagne glass makes a perfect practical gift that the bride can use on the morning of her wedding for sipping champagne.  You could also get a pair of personalised champagne glasses for the bride and groom to drink from at their wedding breakfast.
This is a popular gift that many people tend to buy, so make sure to ask around to ensure the you won't be buying a gift someone else already has!
Check out our crystal glass here which makes a gorgeous gift!
9. Memorial Bouquet Charm
A bouquet charm is a lovely gift, and extremely sentimental - so make sure to check again with all members of the bridal party that this hasn't already been purchased.
If the bride has any family members who aren't able to attend to attend the wedding like loved ones who have passed, a bouquet locket or charm with a photo which holds her loved ones is a great way to honour them and have them right there when she is getting married.
This can be an extremely sensitive gift, but if given by the right person this will add the most beautiful touch on the morning of her wedding.
The below image is from PrinceCharmingUK on Etsy - we especially love this vintage charm.
10. Personalised Ring Box or Trinket Dish
Personalised gifts on the wedding morning can definitely add that extra special touch.  A ring box or a trinket dish with personalised initials of the bride and groom, or "Mr and Mrs [New Surname]" can make a practical gift that will also be a keepsake for years to come.
Etsy has a range of ring boxes and trinket trays - we love this one below from The Little Clay Gifts on Etsy.
11. Personalised or Luxury Dress Hangers
This gift will enhance the wedding photos and is a small touch that often gets forgotten about until the last minute!  There's nothing worse than having a gorgeous collection of bridesmaid dresses and the wedding dress hung up on hangers that are black / not fitting with the overall theme of the dresses!
A great gift that will be forever kept and come in super handy on the day is a personalised dress hanger for the bride.  You could also arrange with all of the bridal party to get the hangers for the bridesmaid and mother of the groom and split the cost of these - but personally pay for the brides hanger as a gift to her.
Not On The High Street and Etsy has some gorgeous options which will suit a range of different wedding themes from rustic to classic silk hangers.
We love this one from Clouds and Currents on NOTHS