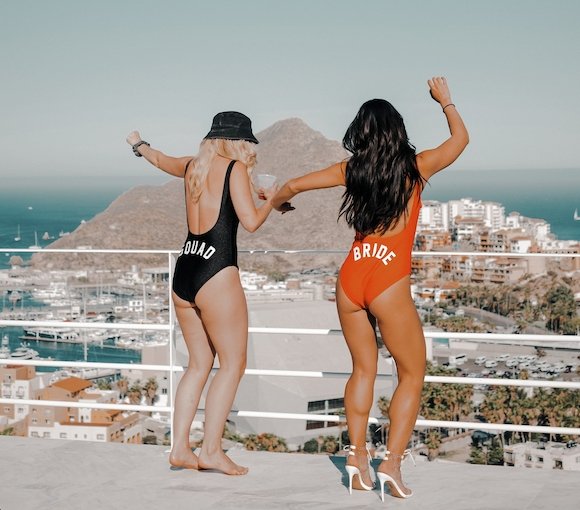 The Best Hen Party Destinations Abroad!
Last Updated: 15th February 2021
In this article, we give you the best abroad destinations for your hen party and the top things to do in each place.
Whether you want to have a blowout party weekend or chill with the bride tribe on the beach, there is plenty of destination henspo below. 
Let's dive right in!

Where is good for a hen do abroad?

To help you short list a few hen do destinations abroad, understanding what makes a good hen do destination is key.  A good hen party location is one that gives you plenty of choice when it comes to eating out, activities and accommodation.
Selecting a hen party location will also depend on other important factors such as the hen party's budget, and how far the hens and the bride are prepared to travel.
If you're based in the UK, you'll be spoilt for choice with short flight times to Europe where you can get a mix of city and beach type holidays!

How to organise a hen party abroad?
We have put together the ultimate hen party planning checklist which will help you to plan your abroad hen party.  Check it out here.
However, as a general rule to get started, we advise:
Putting together a short list (2-3) of destinations

Total up the budget for each destination (flights, accommodation and activities)

Put the destinations and the cost up for a vote to the rest of the bridal party, the hen party or the bride (if the destination isn't going to be a surprise to her) to help make the decision
It is important to understand that not everyone will have the same budget, and the bride will have people that she absolutely wants to attend the hen party - so working within her criteria will also be important when it comes to planning.  

Our Top List of Abroad Hen Party Destinations!
1. Lisbon
This popular Portuguese city is a fab spot for a destination hen. Lisbon offers the perfect balance between beach and city, it makes a stunning location for a hen party and has something for everyone.
In Lisbon, you'll find amazing quality food from high end restaurants to bustling local food markets, world class wine, and so many historic sights to see (being one of the oldest cities in Western Europe!).
The city itself is beautiful - full of charm with cobbled streets and narrow alleyways.  You'll be spoilt for choice with things to do from walking food tours, winery's, gorgeous sunset view points and rooftop bars and restuarants that overlook the city.
If you're looking for a day-time activity you can head to the beach for group sailing or surf lessons or a private boat cruise. There are day trips on offer to picturesque Sintra (think Portuguese Riviera) and Cascais.
Plenty of flights are on offer to Lisbon with Ryanair, Easyjet and British Airways flying in.
In Lisbon, you'll also have no problem finding the perfect accommodation for your party.  There is lots of gorgeous boutique accommodation as well as quirky air bnbs for larger groups.
Our 3 best things to do in Lisbon for a hen party include:
A trip to Time Out Market where you'll experience some of the best foods all under one roof by some of Portugals best known chefs.  From 24 eateries and 8 bars, you'll be able to spend at least few hours here with the hens!
Walking City Tour - Check out Hi Lisbon walking tours! They offer a free walking tour of the city with local guides who will take you around all of the key sights.  You can also enjoy a private tour for a good price too!
Private Yacht Hire - If you have a few hens, you'll be able to benefit from getting a boat or yacht to yourself for a few hours where you can party, have a BBQ on board with beers and wine! Check out Pink Monkey who have some great packages on offer: https://pinkmonkeystagandhen.co.uk/yacht-hire-lisbon-hen 
2. Croatia 
Croatia has become a hotspot for hen parties due to it's short flight time from the UK, gorgeous coast lines and party scene.  You can experience the VIP treatment that you'd expect from a place like Ibiza or Marbella but for a slightly cheaper price without compromising on the beauty of the place, food, accommodation options and activities.
Croatia is famous for its' collection of small islands on the Adriatic Sea - which are all simply stunning.
From Hvar, Split to Vis - each island will blow you away and you'll experience the most beautiful authentic food and wine while you're there.  What's not to love?
Croatia has a lively nightlife scene, from cheap beers, Irish Bars, cocktail bars and late night partying - you've got everything you need for a hen party.
Hvar island has a great party scene in the summer - it is definitely the more chic and glam option if you're wanting a classy hen party location.
Split is Croatia's second largest city, and with that comes plenty of options for dining and partying.
Some of our top recommendations for a hen party in Croatia include:
Stay in Split and take a ferry to Hvar.  Both locations in Croatia have so much beauty to offer (and nightlife!), so we recommend spending some time in both places.
Explore Hvar's gorgeous beaches and enjoy cocktails at the laid back beach bars including Halko Beach Bar, Hula Hula Beach Bar 
Check out Pokonji Dol which is only a short walk (20-30 minutes) from Hvar town.
3. Ibiza
Ibiza is a very popular destination and a great option whether you're looking for a party-filled hen or a yoga retreat and sunshine vibes.
Ibiza is a tiny island but you'll be surprised when it comes to the variety of areas you can stay.  San Antonio is the party place but probably not recommended if you want luxury and to get away from the noise through the day. 
If you want sightseeing but some liveliness then Ibiza Town is a great option! Playa D'en Bossa is the place to be if you want luxury - luxury beaches, pool parties and nightlife on your doorstep in this area.
In terms of accommodation, Ibiza has a lot to offer.  Channel Love Island and get the gals into a villa where you can enjoy sun bathing and swimming in your own private pool through the day.   You'll be surprised at how reasonably priced it is to get a villa when there is a large group of you!
There's also plenty of hotels where you can get great rates if there isn't as many of you to be able to split the cost of a villa.
Obviously Ibiza has plenty of nightlife on offer so you won't be short of options to dance the night away. There are also plenty of yoga teachers in residence if you fancied a zen hen option for a class or retreat.
Our top picks for a hen party abroad in Ibiza are below:
Charter a private boat and soak up the sun on the Mediterranean. 
Drink Cava, enjoy some Spanish cuisine and listen to your favourite tunes on board! You can hire out a boat for a reasonable price when you have quite a few hens to split the total cost. 
Ibiza Rent a Boat prices work out on average at a cost of £100pp when you have 11 hens: https://ibizarentaboat.com/yachts/ 
Spend a day at a Beach Club like Ocean Beach, Nassau or Mojito Beach Club (to name a few), this is the ultimate way to get the real Ibiza experience! With world class DJs, a pool party and a VIP bed for the hens, this is the perfect way to celebrate in style! 
Watch the sunset at Cafe Del Mar.  This is an absolute MUST! Ibiza is voted for having one of the best sunset spots in the world and Cafe Del Mar is the perfect place to enjoy the view.  This is an experience you'll remember forever, it is simply stunning.  Enjoy cocktails and food on the evening and have the perfect view of the sunset as it disappears behind the Mediterranean.  Make sure you book ahead as it gets booked up quite far in advance.  After the sunset, you can enjoy live sax and the best house music the island has to offer.
4. Mykonos
Whether it's thanks to Mamma Mia 2 or Instagram, the Greek islands are definitely enjoying a resurge in popularity.
All of the Greek Islands have the most gorgeous beaches, beautiful food and warm hospitality to offer. 
Mykonos is the luxe party island, where Lindsay Lohan is currently running a beach bar and has become an A-list haunt of late. It is one of the pricier islands but if budget permits, it's definitely the place to be.
Love Island veteran Olivia Buckland hosted her hen party in a Mykonos villa with lots of pool parties. 
Some top picks for Mykonos include:
Take out a VIP club package and experience some of the best nightlife by visiting top clubs on the island including Cavo Paradiso, Addiction Club or AT54
Scorpios restaurant is a first class experience with gorgeous sea views and amazing food.  We highly recommend this place, however it will be at the top end of your budget for eating out.
Nammos is a stunning beach bar where you can party through the day and soak up the sun.  This place does amazing food and cocktails with luxury, chill out areas.
5. New York 
This definitely requires a bigger budget and a bit of planning, (ESTA visas etc.) but with WOW Air, Norwegian Air etc offering cheap flights to the States and the other airlines competing, a long weekend in the Big Apple can be doable. 
In NYC, an Air BnB is usually your best bet and there are plenty of options in cool neighbourhoods available like Williamsburg, SoHo or Upper East side.
Our top recommendations for New York are so hard to fit into only a few points, but other than the obvious sightseeing activities like Empire State, Central Park and One World Trade Center, we've given a few alternative suggestions below.
Check out the Meatpacking district and

 

The Standard Hotel

 

in New York for some cool nightlife or head over the bridge to Brooklyn for Hipster Bars. And make sure to bring your ID to your Bachelorette spectacular (even if getting ID'ed is a distant memory!).
230 on Fifth is the place to be.  Enjoy rooftop drinks nestled right in the heart of Manhattan.  At every angle you're surrounded with skyscrapers and lights - a truly magical place for experiencing the best views of the city.
Seeing a show on Broadway is the perfect girly evening out.  Take a look at the Broadway show website to see what's on.  
Sex and the City Hotspot Tour - The perfect girls day out! View more than 40 locations that were featured in Sex and the City including Carrie's famous brownstone stoop in West Village and taste the delicious cupcakes at Magnolia's Bakery.  Check out the prices and dates of the tour here.
6. Barcelona
If your Bride to Be can't decide whether she wants a city or a beach break hen, combine the best of both and book a weekend in Barcelona!
The city has lots of beautiful architecture and lots of museums and parks to explore if you fancy some sight-seeing on foot, or you can cover more ground without too much effort and organise a fun electric bike tour.
Alternatively, you can head to one of the city's beaches such as Barceloneta, which is about a twenty minute stroll from Las Ramblas or a short hop on public transport. You can enjoy sunny days on the beach up to October!
You'll find reasonably priced boutique hotel options, and lots with rooftop pools or rooftop cocktail terraces where you can enjoy great views while you chill or enjoy your prosecco.
There are endless tapas spots and food markets at all price levels where you can fill up on patatas bravas before hitting the legendary night life (which lasts all night long and into the next morning for the hardcore hens FYI!).
Barcelona is also a great location for reasonably priced music festivals or concerts so make sure and check out upcoming gigs before you head.
Word to the wise though, it's a busy tourist location so there can be a lot of pickpockets in operation so keep an eye on handbags and wallets while dining alfresco etc.
Some of our top picks for Barcelona include:
Cocktail making at Collage Cocktail Bar.  This is a tried and tested recommendation - it was absolutely amazing.  The guys who run this quirky cocktail bar are so engaging and the entire bar is closed off to the rest of the public so you can enjoy it for your entire party. It is also located in the Gothic Quarter which is a great place to continue drinks afterwards!
Straws'n'Berries Picnics are beautiful picnics that are insta ready. Curated for large groups and perfect for hen parties, you can enjoy a picnic on the beach or hire a picnic to come to you and your hens at your chosen location.  You won't be disappointed! Check them out here.
Take a walk through the busy Boqueria market.  Find food stalls and small bars located around the market where you can stop off for a drink.  A great way to get an authentic Barcelona experience!
7. Budapest
You're probably already hearing the George Ezra tune now! For a modern hen party destination, why not check out this Hungarian hot spot. It's been gaining popularity with both hens and stags in recent years.
Budapest is a beautiful city and often used as a film location due to its' stunning architecture. There are lots of great tourist apartments to rent near the city centre and they offer a good value option – Go 2 Flats.
Top tip – download a language translation app for help with menus etc, the locals appreciate a bit of effort!
Some of our top recommendations while you are there for a hen party include:
A boat tour of the Danube is a great way to view the city, and there are plenty available, often as part of a bus tour package, and there are also Red bus tours that will help you get your bearings.
A day or night in a Ruin bar. They are located around the city and offer cheap drinks in cool surroundings. The tip top roof bar is an option for a pricier drink but a great view of the city.
No visit to Budapest is complete without a trip to the famous baths, so make sure your bride tribe has packed their cosies! One of the biggest and prettiest is the Széchenyi baths. You can also buy massage and pedicure options with your pass to thermal baths if you fancy some bridal pampering. Good old Ryanair offers plenty of affordable flights from Ireland and the UK.
8. Algarve
For the tried and tested Bridal beach break, head to the south coast of Portugal. Both Villamoura and Albufeira are approximately a half hour from Faro airport, and you can arrange a reasonably priced (and air conditioned) transfer if you book in advance.
Villamoura has lots of holiday apartment and aparthotels available for all budgets, as well as higher end hotels. There are also lots of spas and hotels offering treatments if a pampering hen activity is the order of the day.
For a more luxury style hen party you could head for cocktails on the marina, or charter a boat for an afternoon of cruising and champagne.
Albufeira strip is a busier spot but just a note - this is for the roudy hens who want a night of fun - we'd say anything goes in terms of dress here.   
The old town of Albufeira has a wider range of restaurants and a lot of roof terrace bars and outdoor areas looking over the sea which is worth a visit too.
Our top tips for a hen party in the Algarve are:
Enjoy the gorgeous beaches on offer. Grab everyone sunlounger near a beach bar and get your G&T's delivered while you chill on the beach. You'll mostly have to pay for the privilege, but it's worth it for the access to clean bathrooms etc.
Wine Tasting Tour at a Vineyard - Take a day out with the hens and do a wine tasting tour in the Algarve.  There are plenty of options to choose from - just check the reviews on Trip Advisor to get the best rated experience! On a wine tasting tour, you can experience authentic food, gorgeous landscapes of the beautiful vineyards and sip on world class wines.
9. Malaga
There are plenty of airlines flying year round to this hen party hot spot on the Costa Del Sol, so whether you fancy staying in Malaga or heading further south to the beach clubs of Marbella, a trip to the sunny Spanish south east is always worth considering for a hen getaway.
The city of Malaga is home to several beaches, both those accessible from the city centre and resorts on the outskirts.
The nightlife starts late and goes on to the early hours in the morning and the restaurants serve food until late – handy if your hen crew want to spend a lot of time getting dolled up.
When in Malaga, why not check in one of the late night flamenco clubs, or even better, book your bride to be a flamenco dancing lesson!
40 mins from Malaga airport, you can blow the budget and head to the favourite haunt of many a celeb, and even more reality show favourites in Marbella.
Some of our top picks include:
Heading to the Marina in Puerto Banus for prosecco and people watching
Glam up and spend the day in some of the most popular beach clubs, such as

 

Nikki beach, Funky Buddha beach club, or Ocean Club. Hiring a sun lounger in one of the more exclusive beach clubs can be an expensive activity but usually includes some bottles of bubbles to get the party started and will definitely have the bride to be feeling like the VIP she is.
10. San Sebastian
For a less conventional but equally fabulous hen destination, consider San Sebastian.
Fly into Bilbao airport or Biarritz (which often has great Ryanair deals) and this Spanish gem is a short bus hop away.  There is beautiful architecture and a fabulous beach, and lots of reasonably priced Air BnB and boutique hotel options with lovely terraces and sea views.
You will definitely get to combine the best aspects of a beach holiday and a city break here. Spend the day at the seaside, and the evening eating your way around the numerous pinxtos and tapas bars.
The city is renowned for FOOD! And the best thing is it's super affordable. You can enjoy a delicious glass of Rioja and some tapas al fresco for under a fiver (yes!) what's not to love?!
There are lots of beach adjacent "discos" near La Concha bay for the dancing queens.
The City is also home to a huge Zara and the sister line Oysho if retail therapy is required. Hey, it's so reasonable to eat and drink there, you'll be able to afford some!
Our top San Sebastian recommendations to check out for your hen include:
 La Concha Beach - Soak up some sun with your hens and enjoy a day at this gorgeous beach which boasts clear water and white sand.
GU San Sebastian restaurant and bar offers gorgeous views of La Concha Bay, where you can enjoy cocktails all day and watch the sun go down.  This place really comes alive after midnight too.
Enjoy a 360 Panorama View over the bay at Monte Igueldo. Take a carriage to the top and enjoy views that stretch across the bay and a great view of the 16th century El Torreon tower.
Make sure to pack the suncream and decorations for hen HQ! And a glass of bubbles in the airport is compulsory!
Happy henning x