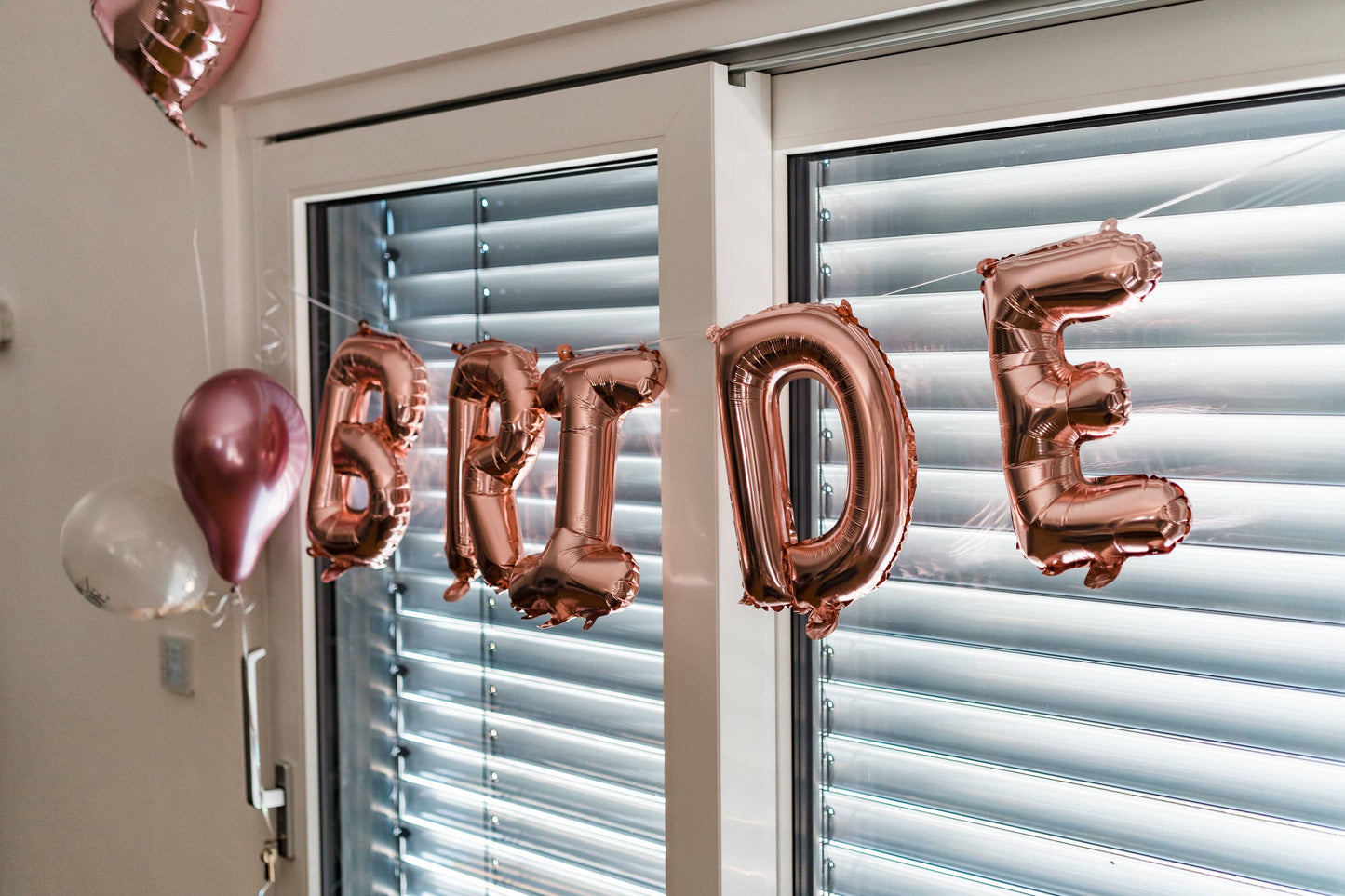 40 Best Hen Party Games to Play in 2022
Updated 18/11/2022

Are you in the middle of planning a hen party and looking for games and activities to get everyone involved? Once you've finished reading our list of 40 hen party game ideas, we're sure you'll be armed with a few games to suit your hen party!
If you have a few people attending the hen party who might not know each other, hen party games come in super handy as they make great ice breakers and will help to add some structure to your event!
You can view our list of free printables if you'd like to print and go, but we have a full list below of our top picks! Let's get stuck in…
1. Who Knows the Bride Best?
Best for sentimental vibes
An oldie but a goldie. This is a great quiz to pop into a hen party bag.  It can make a great ice breaker if you ask your hen party to do the quiz in pairs too!
This is a game that will get the chat flowing with all of the hens once the answers are revealed!
How To Play: 
The hen party guests are given a question sheet that they must complete, which is populated with around 10-15 questions about the bride. 
Hand them out to the group and give them a timeframe to complete the questions!
When the time is up, ask the hens to swap their answer sheet with someone else as you go through the answers - asking the bride to give her answer to the entire party. 
This is such a fun game as the party will learn more about the bride, and it is also a great way for everyone to get involved!
Our 4 in 1 pack includes this game which you can purchase here.  It also contains:
Who Knows Bride Best
What Did the Groom Say (Similar to Mr & Mrs!)
Hen Party Challenge
Sketch The Bride's Dress
2. Prosecco Pong 
Best for getting the party STARTED! 
Prosecco Pong is a fun spin on the popular US college game, beer pong.
You can think of it as a classy hen party idea or the path to hen party carnage. Either way, it will be a talking point and will ensure the hen party fun gets going. 
You can create the game yourself with 12 cups/plastic glasses and a few ping pong balls.  We have fully stocked this game in our shop as this is a favourite!!
How to play:
Split your hen party into two teams and then set up your table (preferable a rectangle or long table!) with 6 glasses on each end, placed in a triangular shape.
Take turns to throw (or bounce) the pink ping pong balls into your opponents Prosecco glasses.
If you land the shot, your opponent drinks the glass of Prosecco (or takes a sip? But it's a hen party... come on!)
3. Pin the trunks on the hunks
Best for hen party laughs!
This can be purchased from Etsy or you can turn it into a DIY project and simply print a large picture of a hunk (or hunks), or of the groom to make it more personable!
How to play:
Source the image you want to use (the groom or the brides celebrity crush). 
Print out the image on a large (we suggest an A1 size poster)
Create a pair of paper trunks, or a paper penis (LOL), which has blu tack or a pin attached to it.  
Ask each hen party guest to pin the penis onto the poster - aiming to pin it in the right place!
The person who pins it in the right (or the closest place) wins!
Much like pin the tail on the donkey, you can then take it in turns to pin some trunks on him whilst blindfolded.
4. Who Am I (Celebrity Star Edition)
Best for Breaking the Ice! 
This is a great game that is lighthearted and fun!  It is the perfect game to play at the beginning of a hen party to get all of your guests mingling and asking questions.  
How to play:
The game is super simple!
Each guest is given a celebrity card (and they must not peek at who it is!).
The celebrity card should be placed on the forehead of each guest (use a post it note - or if you buy the official game from our website, you get a special pair of glasses to insert the card!). 
Each guest must then ask questions to find out which celebrity they are.  (e.g am I an actress? do I have blonde hair?)
Each guest is given only so many chances (for example, 20 questions max) - the aim is to guess your character in as little questions as possible
You can either play this where you have 1 guest ask their full set of questions in one go, or go around in a circle doing 1 question each...whichever way you prefer!
5.

 

Naughty moulding
Best for the sophisticated brides (…with a dirty mind!)
All you need for this hen party game is play-doh. It's another hilarious option in our hen party games list and watch how competitive it gets.
How to play:
You can let the girls play individually or put everyone into teams. 
Give everyone some play-doh and ask them to mould various body parts. How risque is up to you! You can make it as competitive as you like and get votes for the best shapes.
You can also ask them to create something that represents the bride. You'd be surprised at how fun this is and how creative your ladies are! Take along some play doh which will work nicely!
We recommend playing this after a few drinks. You can also split the group into teams and ask them to create a man.
6. Poetic Hens
Best for the wordy brides
Ease everyone into the party and break the ice with this fun game that needs a bit of thought.
How to play:
Split your hens into groups and ask them to write a short poem about the bride.
You can give them a theme or idea so everyone's poem has a different spin like school, embarrassing stories, fashion, the groom, as a friend etc.  Everyone then stands up and delivers their verse for the bride and she chooses her winner.
Make sure the bride doesn't get off too easily with this one. Yes you love her. But this is her hen party ladies!
7. Where were the lovebirds?
Best for conversation starters
This requires a little bit of prep. Hang up about 12 numbered pictures of the bride and her husband to be, which were taken on various trips or in different locations.
How to play:
Ask the bride to bring along photos of her and the groom.  Also bring along your own if you have some funny ones to add!
Ask guests to write down where they think each picture was taken and the person with the most correct guesses wins!
You can give a prize out to the winning hen, or the hen with the least points could do a forfeit or take a shot.
We have created the perfect free kit (image above) for this game, which includes 3 printables you can use including:
A 5x7 design with the rules which you can frame
Quiz sheet for hens to give their answers
Numbers 1-12 to lay below the photos.
8. Who can make the best hen party cocktail?
Best for some healthy competition
Cocktails are an absolute must. We even have a blog post which gives the best recipes for cocktails to serve at a hen party which could tie in nicely with this game to give some ideas!
This is a great game if you have more hens to split the cost of the alcohol, liqueurs and garnishes with.
How to play:
Set up a stand where you'll have the glasses, garnishes and alcohol.  
Bring along some different mixers (tonic, lemonade, sugar syrup etc), alcohol and liqueurs - think elderflower, prosecco, gin, juices etc. 
Stock up on garnishes and fruit - rosemary, mint, lemon, strawberries - you get the gist!
Check to see if anyone in the hen party has a cocktail kit handy to bring along - this is essential!
With the range of options, the guests will have the freedom to make a cocktail and the bride can rate each one.
To keep the cost down on the alcohol, total it all up and divide it by the total guests in the hen party.  So if you have vodka, gin, prosecco, and some liquuers that come to £100, between 10 people that's only £10 and that will cover the drinks for the evening too!
Be careful on the amount of mixing you do with your drinks!
We want Instagrammable cocktails here ladies!
The bride gets to choose the best one OR the winner is the best hen party cocktail photo for Instagram!
9.

 

Hen Party Dares
Best all around hen fun
Fun hen party dares are the easiest little back up trick to have an a hen party. They are such a simple hen party game to play plus they really make the hens weekend feel like an actual HEN DO rather than just another night out or weekend away.
If you're planning the hens party on a budget, then our free hen party dare cards are the perfect little addition.

How To Play:
Purchase a list of hen party dares, or download some - we have a free list of dares you can download here.
If you want to make them yourself, you can also create your own list. 
Split the hen party up into teams, and work down the list of dares where the aim is to tick each one off - make sure there is photo evidence for each one being complete!
The photos of these will make for fun keepsakes when the bride to be looks back on the wedding.
You can check out out set of 4 hen party games where which has a list of challenges to complete (an example of some of them are above!).
10. The Drink If Game
Best for getting drunk and revealing all!
The Drink If hen party game is a spin on the Never have I ever game and is a good backup to have in case there is a lull in the hen party (generally after dinner!).
We have a free list of drink if questions for this hen party game here. 
Our drink if cards have a mix of tame and naughty scenarios!
How to Play:
The game works by gathering the hens together - one hen reads out loud a scenario (for example, lets' use a fun but naughty one: "You've had sex outdoors"), 
All hens who have done it will take a sip of their drink.  Those that haven't don't.
11. Gin Pong
Best for gin lovers
Just like prosecco pong, we've found the same game which works in exactly the same way except this time with gin!  Gin is sometimes the preferred drink to avoid a hangover, so we're all for swapping the drink!
How to Play:
You will need a long table for this game as you will need some distance between yours and the opponent's cups
Split the hen party into two teams
Place an equal amount of cups on the far side of each table.  Fill up the cups with gin and tonic (we will leave it to you to decide how much!!)
The aim is to throw the ping pong ball and have it land in the opposing teams' cup.  Each cup you land your ball in, the opposing team must take a drink
For every cup that has has a ball land in it, you can remove it from the table to make the game harder! 
The winning team is the one who has the most cups left with drinks in.  The loosing team will have drank all of their drinks!
12. Celebrity Couples
Best hen party lull filler
This is a fun and light hearted game that doesn't take too much time to put together!
How to Play:
Make colour printouts of celebrity couples and leave one at each place setting.
Ask guests to identify both people in the photo. Don't make it too easy! This is a really quick and easy game which doesn't take over the night if you want something quick but challenging!
13. Besties Forever
Best for a walk down memory lane
The hen party is all about the bride and her friends so this is a really nice game to play at the hen do celebrations!
How to Play:
In advance of the hen party or when your hen guests arrive, ask them to write down where they first met they bride. It's probably a good trick to rewrite them all by the same person OR print them so the bride can't guess the handwriting.
After a drink or two, put the bride on her special chair, in the spotlight and get her to read each answer and decide which hen has written it.
An alternative spin on this game is that you could ask everyone to bring an object that's significant to just them and the bride-to-be, then get her to say who brought the gift and why. Happy playing! 
14. Groom Surprise
Best for happy tears
This isn't a hen party game really but we wanted to include it in this list as it still adds to the laughs and the overall vibe of the hen party - and it will keep your guests entertained for hours!
How To Do It:
 You'll need to make paper masks with a picture of the grooms face for each of the guests – simply print a large photo of the grooms face onto paper and cut out.
When the Bride to be pops to the bathroom or is getting ready, everyone pulls out and puts on their masks. If you can, video her reaction to this fun surprise.
We need to remind the bride of who she'll be looking at for the rest of her life, right?!
15. Dancing Queen
Best hen party game for laughs
How To Play:
Before the hen party, pick a selection of songs or artists that you know will get played on a night out.
Write them down on pieces of paper and at the hen party, get everyone in the group (or just the bride!) to pick out artists and song titles from a hat.
When you're out on the hen party fun, when a song or artist is played from the list, the person who chose that must dance alone for the duration of the song no matter where or when it is played!!  Make sure you have at least three songs/ artists for the bride. This one is amazing for Instagam Stories! 
16. Hum/Sing That Tune!
Best for the singing bride
This is a great game to play when there's a lull or a bit of a food coma going on. We included this for the music loving brides.
How To Play
Put together a number of lyrics from songs that suit the group / party. You want people to be able to know at least some of them!
Then, each person has a turn at picking a card with the lyric / song. They have to sing it and people have to guess!
This won't suit everyone. Some people seriously hate singing in public, so for those who are a little shy, humming can be a good compromise!
You could put an alternative spin on it and ask the hen guests to guess and sing the next line of the song
Song ideas:

Rihanna, Britney, Beyonce are always winners!
90s RnB like Usher, Craig David, 
90s Rock & Pop: Oasis, Mariah Carey, Celine Dion, West Life, Take That etc.
17. Charades, the hen party edition
Best for old school cheese
This is a classic game and a good fall back for any party in need of a boost. The hen party spin on this game is picking wedding related or the ultimate selection of chick flicks.
How To Play:
Each hen in the party is given a card which contains a song, movie or tv show
Using the charades signs (which everyone should know but if not - Google is your friend!), each guest has to act out their card without speaking, and the rest of the hen party must guess!
The hen that guesses correctly wins and she goes next to act out her card
Another option is changing the original charades format and getting the girls to work in pairs and to act out famous scenes from different chick flicks. Think the jumping routine in Dirty Dancing and the top of the world from Titanic.
Charades always guarantees tonnes of lols so we couldn't forget about it in the list of the best hen party games. To make this work really well, a nice, heavy pour on the drinks is essential. Tipsy charades are a lot more fun. Here are some ideas:
Charade Ideas:

Magic Mike, Wedding Crashers, Mamma Mia, 27 Dresses, Bride Wars, The Proposal,  Legally Blonde, The Notebook, Clueless,  How to lose a guy in 10 days, Mean Girls, Crazy Stupid Love, When Harry Met Sally, Breakfast at Tiffanys, Sleepless in Seattle, Pretty Woman, Bridesmaids, Titanic, Dirty Dancing, How to be single, Pitch Perfect etc. This is a fun way to play this hen party game that is ALL on the bride.
18. Bra Pong
Best for DIY
This is a mix between prosecco pong and beer pong, but with boobs! How it works? Well, we put together an article here if you want the full low down!  This is a summary of how to play the game:
How To Play:
Get some cheap bras (you could use old ones but this could be a little yuck) in various sizes and fun designs. If you want it to look classy, mix nice pinks and whites or pretty pastel shades.
Stick the bras to a large board with the smaller ones on the top and the larger on the bottom.
Get some ping pong balls and work out a point system for scoring - e.g the smaller bras get 5 points!  The aim is for all hens to get the highest score.
Add in some alcohol (it is a hen party after all!) and you're all set. Share your photos with us via @thehenplanner. We'd love to see them.
19. Wedding Traditions Quiz
Best for the nerds
There are so many wedding traditions out there and do any of us really know what they're about?! For example: Brides carry or wear "something old" on their wedding day. Why? Well according to a Google search, this is to symbolise continuity with the past. 
You'll find lots of information and ideas online for this game.
How to Play:
Pick 10 traditions, read them out loud and ask the hens to write down their reason for the tradition
At the end, you can go through everyones answers and total up which hen has the most points!
This is a fun game to play in teams
20. Pass the Parcel
Best for childhood cheese
Relive your childhood fun by adapting this game or your hen party! 
How to Play & What You Need:
For those of you who were not lucky enough to have played this party game, you simply wrap up one small gift.
You then wrap the wrapped gift up with more paper - adding layers and layers of wrapping paper
On the day of the hen, you will need someone who isn't involved in the game to control the music.  Ask the hens to sit in a circle and pass the parcel around the circle.  When the music stops, a hen removes a layer of the wrapping paper.
The last layer that is removed means that person has won the gift!
We have a new pass the parcel kit available here which provides you with the wrapping, some props, dares and notes.  You can also create your own DIY version quite easily too!
21. Naughty Pictionary
Best for giggles
We usually steer clear of anything too naughty however we do sheepishly wave our hands as big fans of the dirty alphabet game after a few glasses of wine or cocktails.
When we saw this hen party style pictionary game, we couldn't not include it here. It is a hen party after all.
How To Play:
To play, make a list of naughty words - some fun examples: threesome, reverse cowgirl, cheating, etc - pick words that would be funny to draw and those that might need some creative thinking!
Cut out list and throw them in a hat / bowl or whatever container you have available.
Take it in turns pulling out a clue and get drawing. The hen party guests have to guess what you're drawing. Download some

 

printables here.
22. Banned Word Game
Best for getting boozed
This is really fun whether you stay in or head out.
It is not specifically a hen party game but again, it works really well.
How To Play:
Pick a few words that people are not allowed say for a period of time i.e. the grooms name, 'wedding', 'party', 'myself' etc.
Don't pick more than four words.
If anyone says those words, they have to do a forfeit which is decided by the hen planner or the group before they start the game. 
You could also play this by giving everyone a peg, ring or bracelet.
When someone catches them saying a banned word, they have to give their item to that person. The person with the most pegs, rings or bracelets at the end of the game wins.
Make sure you try this out and, please hens, drink responsibly.
23. Hen Party Nicknames
Best for something to take away
This is a fun game to play that doesn't need much/if any prep!
How To Play:
Come up with

 

nicknames

 

for all the hen party guests and reveal them with a name tag for each girl.
Then everyone else has to guess why they have that nickname.
For an added twist, why not turn this into a hen party drinking game? If someone slips up and uses a real name instead of a nickname they have to have a drink (just remember to buy

 shot glasses

!).
24. The Marshmallow Challenge
Best for something random
OK, this one is on the most random ones in our hen party games list however it's a funny addition to a string of quick hen party games for something like a "lovely girls" competition or something.
How To Play:
Buy a few bags of marshmallows.
Each girl has to fill their mouths with marshmallows and try to say a chosen work (i.e. Ejaculation) without biting into the marshmallows…. try it! It's a little random and people probably won't want to eat marshmallows again. But it is hilarious!
25. The Biscuit Challenge
Best for being surprised
This is a super easy game and all you need is a pack of biscuits!
How To Play:
Each girl gets a few biscuits or crackers and has to bite the shape of a willy into them. Difficult!! You'll be surprised by how creative some of your ladies will be! It's another random one of our hen party games but likely that few people will have take on this challenge previously!
26. Hen Secrets
Best for laughs
This is a great game we have tried and tested before, it went down a treat with the hen party.
The aim of the game is to have all hens write down a secret, pop it into a box, and the bride must pick out each secret and guess which hen it sounds most like.
How To Play:
Setup a box and give each hen a blank piece of paper
Ask each hen to write down a secret (make sure the bride can't guess everyones handwriting!)
All hens must fold their secrets up and pop it in the box
The bride then has to read out each secret one by one and guess which hen wrote the secret
There can be forfeits for the wrong guesses!
27. Who's who and guess her age
Best icebreaker
This is a good one over dinner or to play at the welcome / reception drinks!
How To Play:
Source a mix of baby bride and baby groom photos in advance.
Put the baby photos of the bride and groom side by side and get guests to guess how old the bride and groom are on the different photos!
You can also play this and get the hens involved! Ask all hens to bring along a baby photo, and give it to the organiser of the hen party.  The organiser must keep note of who is who and allocate each baby photo a number
Everyone in the hen party must to guess the hen by putting a name next to the number on a piece of paper.
28. Celebrity / Character Heads
Best crowd pleaser
This is similar to the Who Am I game, except it is a more DIY version and the hen party will choose the characters/celebrities.
This isn't a hen specific game but works really well as an icebreaker. For those of you who haven't played this hen party game, it's a very simple game. All you  need is some post its and pens. If you are a little miss crafty, you can put your own creative touch on the game tools!
How To Play:

Everyone sits around in a circle and writes down a celebrity or character name on a post it without anyone seeing.
They then place it on the forehead of the person next to you. Everyone does this so that all guests have a celebrity name on their forehead that they can't see.
The game then works around the circle with each person asking a question about their celebrity. They can only be given a yes or no answer.
You keep going around until everyone has guessed who their celebrity is. For a fun hen party twist, maybe use celebrity brides or one half of a famous couple.
You can buy the fancier version in our store by clicking the image below.
29. Memory Lane
Best for throwbacks
This is the perfect icebreaker for a hen party group who know the bride from different parts of her life, and don't know each other that well.
There are various ways this game can be played. It's also nice for the bride to be as it's one of the personal games. 

How to play:
Before the hen party, ask all the guests to think of a memory or when they first met the bride and write it on a piece of paper. 
At the hen party, put all the memories into a hat and get the bride to pull them out one by one. 
She will read the memory out and guess which of her friends it is. This also lets the other girls know how the other guests first met the bride to be.
Even some who are friends with the other guests might be surprised. Let the guests know to be as funny, sentimental or embarrassing as they like!
30. Glass Ice Breaker
Best for classy hen parties
If you'd like a cultured start to your hen party celebrations, this civilised ice-breaker game is an easy way to start earning your hens party planner kudos.
How To Play:
In advance of the welcome drinks (if you are having this!) stick a one-word topic of conversation to the bottom of each glass. When the ladies arrive, give them each a prepared glass. 
As soon as someone finishes their drink, they must start a conversation using the wine glass word with the hen to their left.
It's best to tell the hens about their word when most people are finishing their drinks - to stop people from peeking and to ensure it isn't distracting from people really getting to know each other first
This is a great game for getting everyone chatting, particularly when they don't know everyone.
31. The Wine Tasting Game
Best for sophistication
A non traditional party game which is perfect for a sophisticated hen party (or at least pretending you are!). A simple way to play is for everyone to vote for their favourite wine without seeing the label. 
How To Play:
What you need Bottle of wine (ask each guest to bring a bottle), bags to keep the label covered and wine glasses 
How it works Guests will taste each bottle of wine and vote for their favourite wine. The bottle with the most votes, wins! The person who brought the wine will then reveal how much the wine cost.
32. The Present Game or the Pants / Knickers / Panties Game!
Best for some sexy honeymoon lingerie!
How To Play:
Everyone brings a gift for the bride to be that reminds them of their friendship! 
You can line these up, put them in a bag or even hide them and send the bride to fine them.
She then has to guess who brought the gift for her. Gifts can be anything and they don't have to cost a lot of money either!  Ideas include: a poem, something handmade, a keepsake, etc
A nice touch will be to photo her with each gift and the giver as you go along.
If you send her searching for the gifts, remember to take photos of this too
Add some forfeits if she gets it wrong for the hen party twist. 
The knicker or panty hen party game is similar to the hen party present game but all the guests bring the bride to be a pair of knickers or lingerie! She then has to guess who gave them to her.
Give the girls a small budget of €5 or £5. A twist on this game is to ask the girls to write the bride a short poem about the meaning behind their gift and the bride has to guess.


33. Bridal Bingo
Best easy hen game
Bridal bingo is an easy hen party game to set up.
How To Play:
Create some bingo sheets (you can find free downloads online also). Fill each square with a different wedding or hen party word or fact.
Write down the facts on a piece of paper too and have someone draw these from a hat – you could ask the bride to do this!
Then, the first hen party guest to fill in her bridal bingo card wins!
The more giggle-worthy the facts are the better.
34. Date Night Jar
Best for future Mr and Mrs passion!
The date night jar is a simple, personal and fun game to play on the hen do.
How It Works:
Basically all you need to do is create something to hold date ideas and then provide paper or lollipop sticks for people to write their date ideas for the couple on.
This is always best after a few gins or glasses of prosecco (to keep those create hen party juices flowing). If you don't feel like doing the DIY, our Date Night Box or

 

Date Night Jar

 

is the best options. This comes with 50 cards for writing date ideas and keeping their love flowing for years to come!
35. Balloon Questions
Best for keeping the party going
Keep the party going non stop with this fun hen party game.
How does it work?
Get each hen party guest to write down a question – as naughty or nice as they like (!)
Place each question inside a balloon and then inflate the balloons.
Throughout the night, the guest of honour,  bride-to-be chooses a balloon, pops it and answer the questions.

36. Prank the Bride
Best for the bride who can handle a laugh
If the bride is a prankster, then this is the game to throw at her!
How To Play:
Come up with the ultimate prank which she will really believe – from changing the name in her phone for you to the groom (so you can message her and tell her something like "The Wedding is OFF!!") or arranging a guy on a motor bike to pick her up and not tell her where she's going to an aeroplane announcement to anything you can think of. This will go down in the hen party books.
This is only for the bride who can handle something like this! 
37. Porn or Polish
For those with dirty minds!
Size Matters? Meet Balls? Frisky Business? 

How To Play:
For this game, split the group into small teams.
The "bridesmaid master" reads out a list which everyone has to guess if they are nail varnish names or the titles of risqué adult films! Obviously, the group to get the most right wins.
Make it easy on yourself (and your browser history) and order some cheap downloads from Etsy. Have some cheekily named nail polishes (or we prefer a nail conditioner or oil as it will be of use to those who get shellac too). You could also get monogrammed nail polish bottles.
38. Hen Party Riddles
Best for FUN!
Get the party started and guaranteed to prove who has the filthiest of minds!
The hen party riddle game is a game with quick and dirty riddles. They sound like something naughty but they really aren't! Only those clued in (maybe after less prosecco) will be able to get these, but they'll definitely have some of your smartest guests stumped.
How To Play:
With this game you read out the riddles - make sure to get riddles that have a few innuendos in which will help to get the dirty minds going!
The group then have to guess the correct answer. It sounds really easy but you will be surprised by people's answers!!!
39. 5 Games in 1 (Free Game!)
Best for rushed hens
This classy pack of bridal shower games is a great purchase for the hens who have left game planning to the last minute.  
This games pack has a variety of games including Chick Flicks Quiz, Henagrams, All About the Bride, Who Said What? and Couples Challenge.  This last minute purchase will give you plenty of options so you can decide which one to pull out depending on the mood!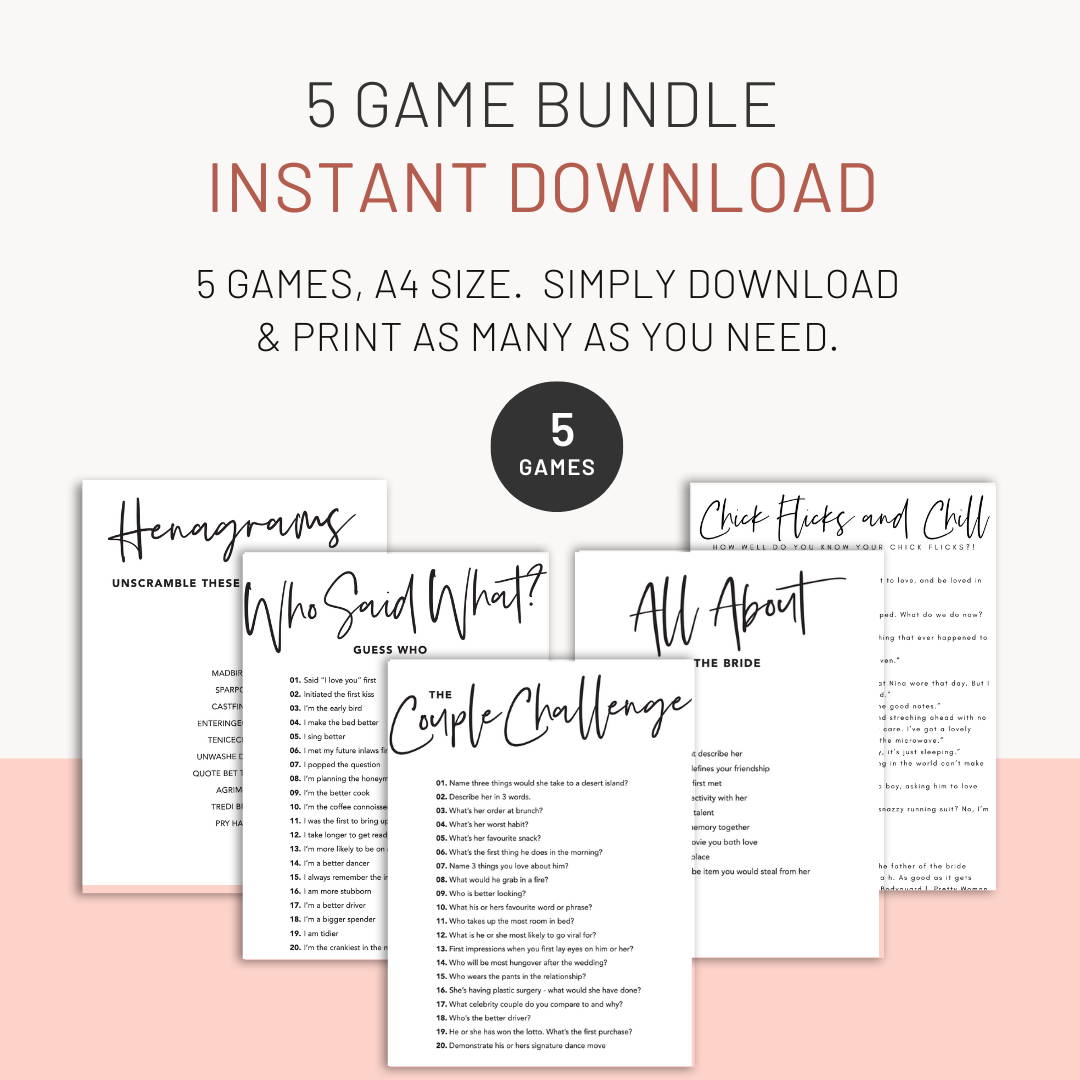 40. The toilet paper wedding dress game
Best for creatives
Yes, we know, toilet paper hen party games?
It does sound a little random but trust us, it can be one of the funnest!
How To Play:
This hen party game involves lots of toilet paper and putting everyone into small teams.
Each group picks a model or "bride" from the group and gets started on creating a gorgeous dress for the "bride". The Hen Planner loves fashion so this is our obvious hen party game favourite!
Get everyone to give a time frame to have their creations completed by. Then it's time for the fashion show and each group nominates a spokes person to give the low down on the inspiration for their creation.
Like all hen party games, if there is alcohol involved, it does add a little zazz to the creations (toilet paper masterpieces).