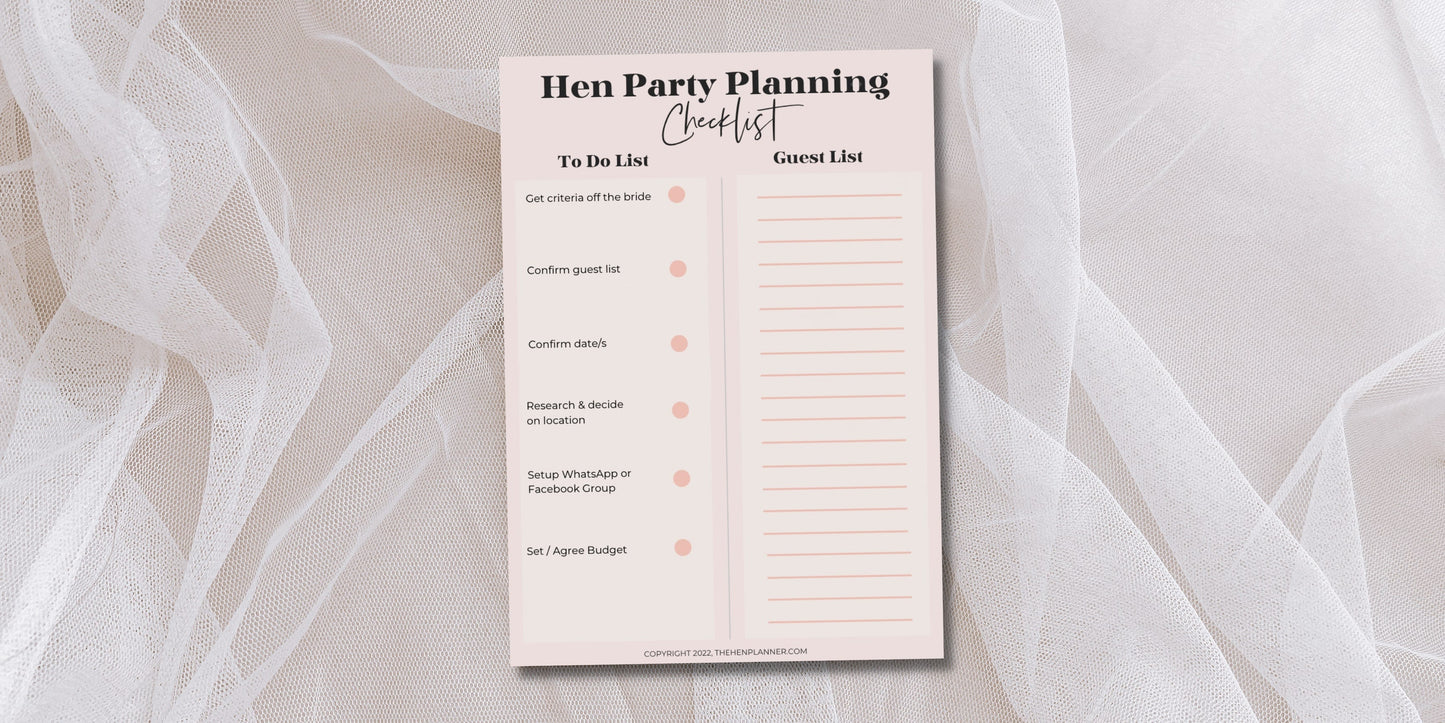 How To Plan a Hen Party - The Ultimate Checklist!
We get it...you're a first-time bridesmaid and you've been catapulted into the hen party planning world.  Luckily, you're in the right place.
We'll show you what you need to do (and when), and give you the vital steps you need to take to help you plan the perfect hen party!
To get you on the right track, we've put together a guide and a checklist of everything you need to consider and answered some of the top questions around hen party planning!
Once the hard stuff is done, it all becomes so much fun! 
Let's get into it!
Jump to:
Our FREE Hen Party Checklist Download!
Just enter your email and we will send it directly to your inbox.


How far in advance should I plan a hen party?
It is common for the hen party to take place 4 - 12 weeks before the big day.  That way, it isn't too close to the wedding and not too far away!
There really is no right or wrong.  Many bride to be's like to be fresh for the wedding day, so a big blowout or a weekend away probably isn't ideal if it is so close to the wedding - especially if there are so many finishing touches needing to be done.
The timing of the hen party is likely to vary depending on where the hen party is being held.  For example, if it is just a night out on the town - around 4 weeks before is perfect.  However, if the hen party is a weekend abroad, this might fall between 4-16 weeks before the wedding.

How To Plan A Hen Party - Step by Step!
Step 1.  Check in with the bride
The first and most important thing to do when planning a hen party is to check in with the bride.  There are a few details you will need from her before you get started.
Some questions to ask her include:
Does she want it to be a surprise?

Does she want to be involved in any part of the planning?

Does she want a mild hen party or a wild hen? 

Ask her what kind of hen do excites her - classy and luxury, cheap and cheerful, etc
Agree the Destination / Country

Ask the bride where she would like her Hen Party to be.  Does she want to go abroad, have a weekend city break or keep it simple and have just 1 night out on the town?  She can still provide you with these details and it still be a surprise! Just keep the activities and location top secret!
Once you know the details around where she wants the hen do, it will make it a lot easier to decide what budget to set - as a weekend abroad is going to be pricier than 1 night out!
Key Guests and Dates
Get the bride to make up a list of exactly who she wants to attend her hen party - this means you won't forget about that second cousin or school friend that you've never met!
Also make sure to find out from the bride who must absolutely be there.  For example, if she wants her Mum to attend, make sure that all dates absolutely work for her Mum.
Once you have the guest list written down, your bride to be needs to give you the dates that she can attend for her hen party too.
Step 2.  Choose a hen party location
After speaking to the bride to be, you'll have a good idea as to where the hen party should be (abroad or in the UK).
So, the next step is the fun part - choosing your location or destination!
In your local town, a city break in the UK, or jetting off further afield - the choice is endless.
Consider those attending the hen party, like people with children, anyone who is pregnant or those with weekend work schedules.
It's lovely to go far away, but if it means some important people won't be able to come, how will the bride feel? Sometimes, it is good to get a general consensus from the bridal party for ideas - and go from there!
Step 3. Set up a group for communicating!
Creating a WhatsApp group or a Facebook Event with all of the hen party will help you stay organised.
Having this in place makes it much easier to share ideas, dates, costs etc.
Setting this up and communicating that there will be a hen party coming up - giving a general idea of what month it is likely to be will be useful to do in the early stages of planning - as this means that although the date might not yet be locked in, guests will consider that month before agreeing to other incoming events!
Basically, give as much notice as possible, even if you don't have all of the final details just yet.
Step 4. Set your budget
Budget is THE most important thing to decide on and should be done before any research goes into activities and locations.
Everything that happens on the hen will depend on how much everyone can afford. The ultimate aim is to pick a hen party where you can get as many of her key people there as possible, so it is best to provide an estimated budget (as far in advance as possible!) to give people enough notice. 
Alternatively, you can ask what budget people can afford, but you'll likely get a load of different responses with this so we suggest setting a budget and asking if anyone has any issues with it.
Set up a Google Sheet where you can start brainstorming and researching your ideas.  For example, if you're planning a weekend away, you can start inputting the average price of hotels, trains, etc into your Google sheet and total up the cost.
Budgeting for Going Abroad / Weekend Away:
The main items you will need to budget for have been provided below. 
Travel/transfers to and from airport or meeting point
Hotel cost
Flights / trains cost
Group hen activity 
Cost of themes (E.g if you're dressing up over the weekend!)
Restaurant bookings / eating out
Spending money  (most people will set their own budget for this, but make sure to communicate the full itinerary to the group so they can work out what spending money they will need - for example if you plan on going to a club or booking a restaurant)
Once you have these costs, we recommend communicating this to the entire group by giving a budget range. 
If choosing the cheapest hotel will bring the weekend to £150pp, and choosing the most expensive hotel would make the total £220pp, make sure to communicate this to the group to let them know the cost could range between those two prices.
Budgeting for a Local/One Night or Day Hen Party
Most one-night hen parties will probably come in under the £100pp mark including the hen party activity, taxis, drinks, decor and accessories.
For example:
Taxi's £10pp

Activity £30pp

Food £25pp
Drinks £30pp
Decor: £5pp
Step 5. Pick a hen party theme
If you plan on having a themed hen party, decide now, as your accommodation and choice of activities can really add to a theme.
For example, glamping and a flower-crown workshop would really add to a festival-themed hen, while a really quirky hotel and 1960s makeover would be perfect for a vintage hen.
There are so many options, from Gatsby to glitter balls. A theme can make a hen party much more memorable!
You might decide to not go with a theme at all - but do something else that is fun, like have the bride to be dress up in white and everyone else in black, or have all hens dress up in a festival outfit for example - make sure to let the hens know so they can budget for this too!
Step 6.  Book the accommodation (if going away!)
From hotels and B&Bs to renting out a big hen party house in the country, glamping and traditional camping, there is something to suit all tastes and budgets.
A hotel can be very convenient, but self-catering options can make an event more intimate and personal.
Tip! Add 3 different options of accommodation to your Google Sheet ranging from the bottom of the budget, mid-budget and top of budget. Share with the wider bridal party (bridesmaids/mother of bride and groom) and get a general idea of what will work best.

This gorgeous hen party house (Scarlett Hen) in Yorkshire is a great example of the perfect hen party accommodation for a large group. 
Step 7. Start researching hen party activities
Keep your audience in mind when you are deciding on what activities to do.  For example, if you have a mix of ages in the group, a wild night out mightn't be the right activity.  
Check out our article "hen party ideas for mixed ages" if you do have different age ranges attending!
The choice is vast, from craft, dance and beauty treats to high-adrenaline adventure and dress-up photoshoots.  It is best to go with something you know the bride to be will LOVE.  Something that matches her personality perfectly.  
If she loves to sing how about some karaoke? If she loves wine you could do a wine and cheese tasting.  If you think she'd like something a bit cheeky you could try a butler in the buff... the options are endless!
Step 8. Factor in food
This is SO important if a night of drinking is ahead.
When putting together the first draft of your hen party itinerary, make sure you include a lunch or snacks on arrival, and dinner. Make a note to check with the guests if anyone has specific dietary requirements before booking a restaurant to avoid embarrassment/unhappy and unfed hens on the night.
For a hen party in large hosted accommodation, you sometimes get a chef included which gives you even more value for money.  
If not, you could organise a Grazing Board which always makes for amazing photos, and caters for most diets including veggies and vegans.  (The photo below is taken from the Grazing Guys who cater to hens in West Yorkshire).
Step 9. Decor and Accessories!
If you've made it this far, well done — you are almost there. This section will depend on what's left in your budget, but the little extras (we call them ESSENTIALS here at The Hen Planner!) can really make a hen party.
Sashes, a hen party veil for the bride, party bags, bunting and balloons will really make your hen party stand out from the crowd.  These small touches make the bride to be and the guests feel extra special!
These really help pick up the hen party and ensure that everyone is totally full of the fun hen party vibes.
Step 10. The Games!
Last but certainly not least, we advise to have a few hen party games up your sleeve.  Bear in mind that many of the guests who attend will be meeting each other for the first time, and the bride to be will be nervous at the thought of everyone gelling and getting on.
Hen party games are perfect for breaking the ice and also for making the hen party personal to the bride (and groom!).  You can do a bride quiz "Who Knows Bride Best?" or play some games like Prosecco Pong to get the hen's in the mood for a night out.
Check out our list of 40 Hen Party Game Ideas which will give you plenty of fun ideas!
We hope this article has come in useful! We have put together a handy, printable checklist for free to help you with your hen party planning admin!