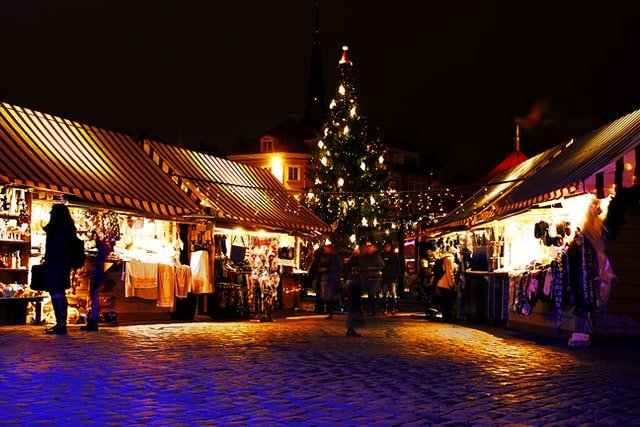 10 Fun Christmas or Winter Hen Party Ideas
Photo by Lāsma Artmane on Unsplash.

There is nothing like a Christmas hen party. Winter might be dark and cold, but nothing beats that festive feeling. For any of you out there who are planning the most awesome send off for your bestie around the festive season, we have put together a few alternative hen party ideas for keeping the hen troops entertained over the hen weekend. Read on for 10 fun christmas hen party ideas. 
Winter wonderland in Hyde Park is open from 19th November until 3rd January, covering the entire winter season.  From live music, fun fair rides, ice skating, christmas markets and the famous ice bar - you'll not be short of things to do that suits everyone in your hen party!  Tickets cost from £5 for general admission.
2. Pantomime
Revisit your youth and take a trip to the local pantomime. The Panto is always great fun and is an activity suitable for everyone from your Aunty Betty to your other halves younger sister, – win-win!! A twist on this is a trip to a panto's naughty cousin, the adult panto. This has become increasingly popular in more recent years and is a guaranteed comic night out, but with a strictly 18+ admission rule, be sure to check that this one is suitable for all attending and maybe leave Aunty Betty at home for this one…!
3. Ice Skating
Ice skating can be a great way to get the whole gang giggling. With festive music, the smell of hot chocolate and festive food filling the air, this is a great one for getting everyone in the spirit and no doubt there will be a few less than dignified skaters who spend most of the time on their bum providing the laughs for everyone. WARNING! It's best to check out that all involved are physically up to skating before deciding on this one.
4. Christmas

 Markets
As important as it is to cover the budget conscious party, there is always room for a few hen party splurge ideas too. What better way to send your bestie off into winter wonderland marital bliss than getting everyone in the spirit at a stunning Christmas Market. Among the top 10 in Europe are Munich, Vienna, Krakow, Prague and Budapest to name a few. A little closer to home there is the stunning market that takes over the city of Bath. A Christmasshopper's paradise, each year 170 chalets packed full of gorgeous Christmas gifts line the streets surrounding the Roman Baths and Bath Abbey. Depending on which side of the pond you are one, there is also the Christmas Market in Dublin with more than 60 chalets taking up residence in St. Stephen's Green.
5. 12 Selfies of Christmas
This was played at a hen party last weekend and we can totally vouch for it! This hilarious hen party game involves putting the hen squad into teams and giving them a photo challenge. Give the group a set time to take photos of the group doing each item on the below list.  Decide how you're going to score it and award it. This is a fun alternative spin on a treasure hunt if you're in a town or city.
1. Santa, I know him!
2. Naughty or nice
3. Christmas rapping
4. Three wise hens
5. Under mistletoe
6. Maids a milking
7. Decorating something
8. Five gold rings
9. 9 ladies dancing
10. Jingling bells
11. Carol singing
12. Rocking around the Christmas tree
6. Naked Christmas Dinner
No, not the hen squad! Book some butters in the buff to serve you and the ladies your Christmas spread. ow here's a lap to sit on. Why not see if the Butlers will go extra festive and dress up as elfs or Santa. A cuddle with Santa will definitely help warm everybody up
7. Love Actually
Love actually is one of the top Christmas movies and for all the die hard fan celebrating her hen weekend in London why not do the rom com movie location tour! See behind the scenes and hear all the filming stories. More details here.
8. Christmas Jumper Party
A Christmas jumper themed hen party the perfect festive photo opportunity. This looks is perfect whether you're touring around a city or enjoying a cosy pub lunch.  Whether you go matching or give a prize for the best jumper you'll be guaranteed a fun hen party theme. If the jumpers aren't enough for your hen squad there's always tinsel!
9. Gift Wrapping Class or Tree Decoration DIY
Christmas can be an expensive time for everyone, so why not go down the DIY activity route. Keep it fun and simple. Look up a few gift wrapping or DIY tree decorations tutorials on Youtube or a crafty blog.  Put on your teacher's hat and wow them all with your artsy creativity. All you will require are some materials which can be sourced super cheap. Lauren Conrad eat your heart out!!
10. Secret Santa
One of the best hen party games is the present game. This is where each hen party guest brings a small gift for the bride and the bride has to guess who it's from. Add a festive spin to this game with a Santa sack.
We hope you enjoy our 10 fun christmas hen party ideas list x