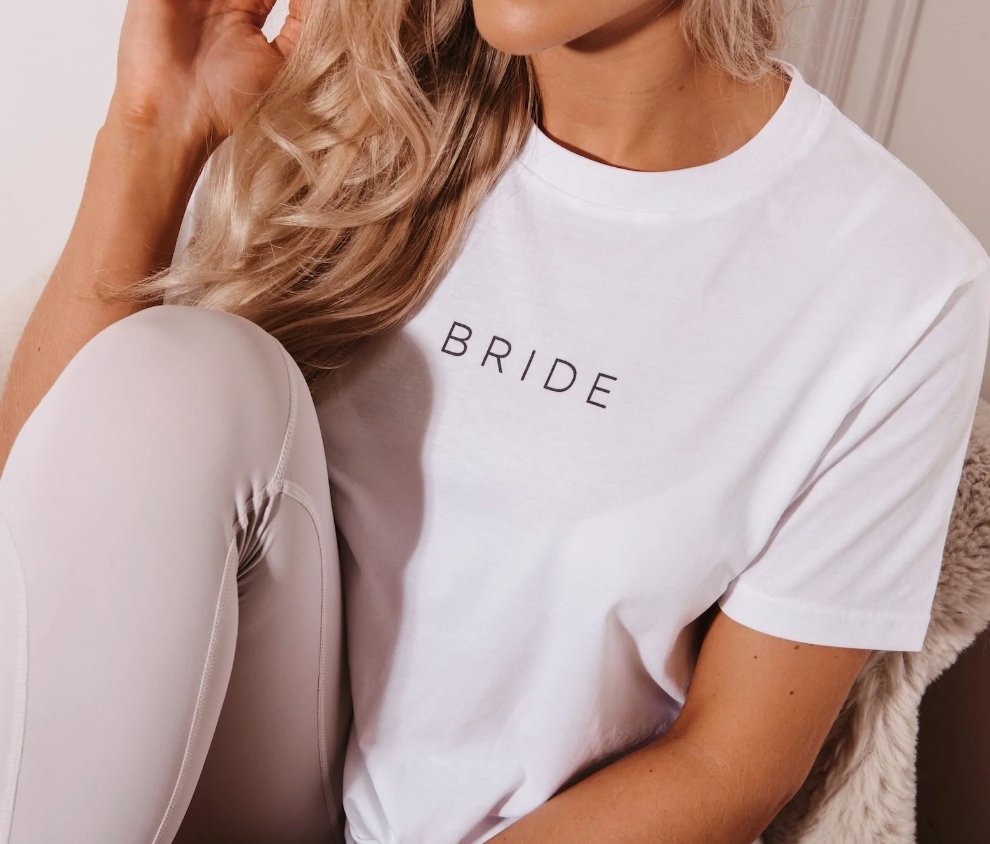 23 Hen Party Gift Ideas For The Bride
Updated 01.11.2022.
Looking for a thoughtful gift for your bride to be bestie? We've rounded up some ideas from Etsy for token gifts for the bride, be it for her hen party, wedding, honeymoon or just because. Browse through these 23 gorgeous gift ideas for the bride via Etsy for that perfect wedding or gift for the bride.
1. Bride to Be Sunglasses
Do these sunglasses make me look like the bride?! Whether it's for her hen weekend or the wedding celebrations, these sunglasses are super fun and look amazing in photos. These glasses are unique and exclusively handmade for The Hen Planner.
2. Personalised Friendship Book 
We can say from experience (as we have gifted this before to our lovely maid of honour!), that this photo book from AmandaHancocks makes a sweet sentimental touch.  With a personalised front cover for you and your bestie, it really is a special gift that can be kept forever.  The book can be used like a scrapbook - you can add notes, pictures, messages and stickers and really customise it the way you feel is right.
I, (Leanne - The Hen Planner!), gifted this to my maid of honour the night before her wedding, and we literally cried and laughed as we went through all of the precious memories.  I included funny facebook messages we used to write on each others facebook wall, photos from growing up together, and messages we have exchanged over the years. It was so so special and I would recommend for all bridesmaids or maid of honours!
3. A Customised Leather or Denim Bride Jacket
Customised leather and denim jackets are an amazing surprise and gift to wear around the wedding celebrations. From the hen to the day after to the honeymoon! We love the range from the DTGUK store on Etsy.
4. A Mrs or Bride Sweater or T-Shirt
A Bride or Mrs Sweater/T-shirt makes the perfect gift! 
These embroidered tops can be worn for bridal appointments, the day of the wedding when getting makeup and hair done, or even after the wedding on the way to the honeymoon!  These minimalist white tops with gold embroidered text make an understated but gorgeous gift that will go perfectly with any outfit! 
Bride or Mrs embroidered text available! 
5. Wrap it up
Presentation is everything! Present your gift to the bride in style in a pretty box like this one from CraftWalla.
6. A Bride Candle
A candle is always a good idea. We love these subtle message candles from Kindred Fires.
7. An Engaged Mug
An engaged mug. For the all important I'm engaged, here's my ring Instagram shot! Available here
8. Customised Neon Wedding Sign
Customised signs can be terribly cheesy. Or, they can look super cool just like this one. This customised sign is an apt surprise for the interior loving bride.  Photo from the NeonCraftsmen on Etsy.
9. Mrs Necklace
This Mrs necklace is another stylish jewellery option for the bride. Perfect to wear the day after the wedding and over her honeymoon. We spotted this on Project Caitlin Minimalist on Etsy. They have tonnes more gorgeous jewellery options available for gifts or as a treat to yourself!
10. A Bride Tote Bag
A bride tote is always a cute token gift for the bride. It's not something she'll buy herself and it's not as if she'll use it on a daily basis after her wedding. However it's great for carrying bits around in advance or on the day. Also great to take home any surprises or excess from the hen party celebrations or the wedding. We like this one for it simple style and cool font. Spotted on Fun Fashion Shirts.
11. A Customised Bride Sun Hat
A custom hat is another cute token gift. Put her new name on it or have it customised with something she can wear again and again. This hat is available via Summer Sequins.
12. Pretty Honeymoon Underwear
Honeymoon essentials! Spoil the bride with some pretty underwear for her honeymoon and newly wed fun. Just be careful to get her size right! This set from Boux Avenue.
 13. Bridal Party Robes
Robes for the bridal party on the morning of the wedding are a nice gift. Best to run it by the bride before hand however just in case she has picked up some or has styles and colours in mind. These pastel shades are lovely with the white bride robes. These are available via Three Two 1 on Etsy.
14. Necklace Ring Holder
This necklace acts as a holder for rings. It's a great gift to give anyone. Perfect for a bride on her wedding day if she'd like to wear a special ring around her neck. Available from TM Box.
14. A Wedding Date Sign
Next on our list of 23 Gorgeous Gift Ideas for the bride! Another one for the interior lover! Put the wedding dates in roman numerals on this cool and trendy print. Available via Bee Happy Art.
16. Personalised Underwear
Personalised bridal panties or knickers are a thoughtful gift for the bridal shower, hen party or wedding. They're a nice keepsake to have from the celebrations. We like these pretty lace panties.
17. Wedding Planner
This marble and rose gold wedding planner is gorgeous! The perfect gift for the newly engaged bride to start planning her dream wedding. This is available from Blush and Gold Invites.
18. A pretty tea cup set
What is not to love about these beauties. The Yvonne Ellen tea cup range is the dreamiest. If you decide that this set is too cute for the couple, be sure to check out her Gin, Prosecco, Wine, Run and Champagne tea cups. Seriously amazing and a gift loved by all. 
19. Bride Ring Box
Get the bride a gorgeous ring box to keep her precious ring in. These are stunning and also perfect for those wedding morning photos. Available from MadeinRose on Etsy.
20. A Fun Honeymoon Towel
Get the bride a fun honeymoon accessory like a personalised towel. There are lots of options and colours available to suit your bride. More details here.
21. A Fun Honeymoon Bag
Get the bride a fun honeymoon accessory like a personalised bag. This is the perfect stylish accessory for the beach! Checkout HanMadeUK's store here and find a lovely range of bags which can be personalised for your bride to be!
22. A Personalised Passport Cover and Travel Label
This personalised passport cover is a gorgeous gift that can be given to the bride and the groom! Monogrammed with her new initials, this is a gift she will love.  Image: MuditaGiftsShop 
23. Bride T-Shirt
We couldn't not include this in a feature on 23 Gorgeous Gift Ideas for the Bride! This top is a fun gift idea for the bride to wear for the Hen Party or leading up to the wedding!  
This t-shirt is a relaxed fit, and you can also get the maid of honour and bridesmaid tees to match, too!