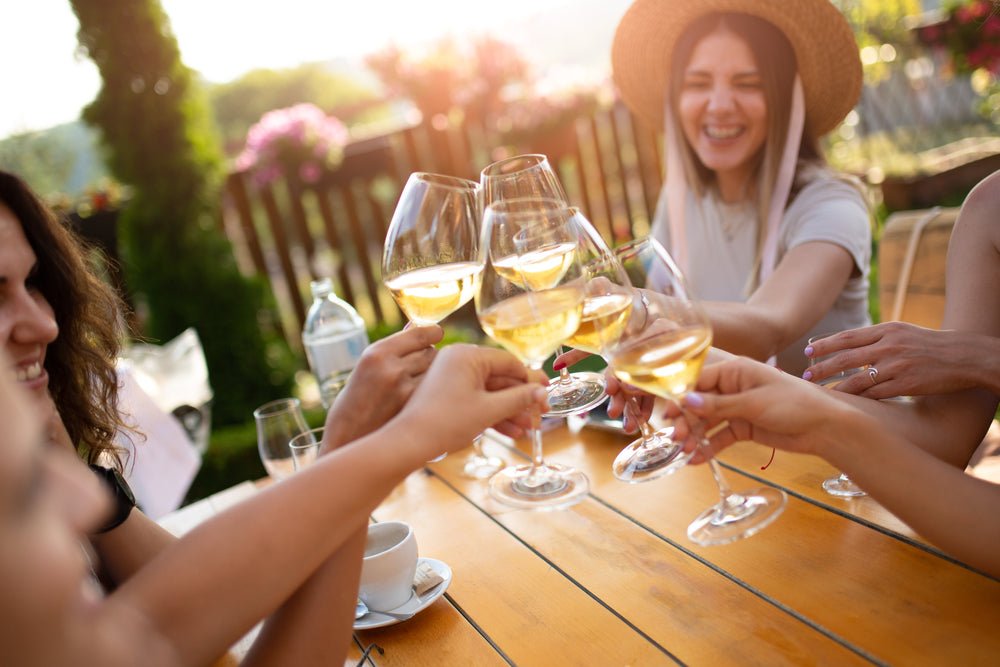 11 Fun Hen Party Ideas For Mixed Ages
If you're planning a hen party for a group that includes mums, aunties, younger siblings or cousins, finding an activity that suits everyone might seem daunting!
In this article, we've provided 11 ideas for 2022 that everyone can enjoy at your hen party - regardless of age!
Remember when planning a hen party that it is important to ensure everyone enjoys it - but it is ultimately about the bride, so try to choose an activity that you know she will enjoy, too!
Let's get into the ideas!
1) Spa Day 
What hen doesn't love a spa day? This activity is our top pick for many reasons! 

A spa day makes the perfect setting where the bride to be can relax with all of her bridal party including her mum, the mother of the groom and her elders - and the younger ladies can also enjoy it too - especially if there's a few spa treatments and an afternoon tea thrown in!
The great thing about booking a spa day is that it is intimate - meaning all of the ladies in the hen party can really bond.

If the bride to be wants a wild night out, that can be done separate to the spa and the more mature ladies will have still been involved in the celebrations - win win!
A Spa Day package with an afternoon tea is usually a nice option - as it breaks up the day a little and gives the full hen party the chance to mingle all together (as normally spa treatments might separate the party for some intervals!). 
After the hen, the bride to be will feel relaxed and recharged which is an added bonus!


2) Afternoon Tea
We would have suggested a bottomless brunch - but that's best kept for the younger crowd!  An afternoon tea is a recommended activity which will make hens of all ages feel comfortable.
An afternoon tea is usually a better option than a bottomless brunch as the activity is centred around the food and chat, and not how many proseccos you can knock back in under 2 hours!
For the hens that don't drink, they can enjoy the food with a mocktail, and the younger hens who might drink more still have the option to order prosecco's or drinks.
An afternoon tea is the perfect atmosphere for all ages, as it will allow all of the hens to mingle and chat without the worry of music being too loud for the more mature ladies - the vibe will be just right for all ages in the hen party.
From our experience, we have attended a few hen party afternoon teas and the best ones have been done in a private venue or cordoned off area.
By having a private space, you can play the songs that the bride loves and you can also decorate it for her arrival! 
3) Paint & Prosecco
Paint and prosecco has become a popular hen party activity over the past few years.  It makes for a sophisticated and fun choice that is perfect for all ages.
There are plenty of paint and prosecco events all around the UK - a simple Google search will show a number of providers that cater for small and medium sized groups.
Perfect for the creative bride, this is an activity she will love as she can properly bond with all of her hens and it makes a great activity for breaking the ice, too!
For this activity, you don't need to be the perfect artist - with the prosecco flowing it is a light hearted activity that everyone of all ages can enjoy.
4) Nude Life Drawing
If you want to add an edgy activity to your hen party that still ticks the boxes for  for all ages, nude life drawing is a great choice. 

The Nude Life experience is animated and light-hearted and the bride-to-be gets to play a starring role, picking the final of three poses by the model.

The drawings will be a brilliant keepsake for all the girls and there's also a goody bag for the bride included. These classes start at around £25 per hour.  Carry out a simple search in your area and you'll find a range of other providers for hen parties.

Note: This might be a little too risque for all hen party ages so maybe suss it out with the older attendees first. If you're really not sure, then stick to paint and prosecco! 
5) Wine Tasting
Wine Tasting is a great activity that all ages (over 18!) can enjoy! Who doesn't love a charcuterie board paired with the perfect wine?! 
This is definitely an activity that is focused on bonding the group and getting the hens together rather than a wild night of loud music.
The more mature ladies in the party will definitely appreciate this activity, and your younger hens are likely to enjoy it too as it makes for a sociable yet educational experience!
There might be a few ladies in your party who don't drink wine (yet!), but this might be the perfect activity that helps them to explore different types.
If your bride to be is a wine drinker, this activity will go down a treat.
6) Cocktail Class
A cocktail making class might sound a little cliche for a hen party - but there's a reason most people choose this as a hen do activity, and that's because it makes a great one for a mix of different ages.
The balance between sensible but fun is just right, which is why it tends to be the go to hen activity.
We have attended and organised a hen party cocktail class, and both were SO much fun.  
For the cocktail class that we organised, the youngest in our group was 18 (the bride's sister!), and the oldest in our group was 69 - everyone said how much fun they had and as we got to drink the cocktails afterwards, most of us were a little bit merry!
A lot of the cocktail classes have fun games to play - like who can make the cocktail the fastest, and they really involve the entire party.
This is the perfect activity for the lead up to a big night out - the older ladies can go home if they don't fancy staying out after the class.
Most bars like Revolution, All Bar One, Dirty Martini etc do these classes - and they have had a lot of experience entertaining hen parties of all sizes, so you'll be in good hands!
7) Escape Room
We just LOVE an Escape Room for a Hen Party!
This is the perfect hen activity for all ages because you can choose what level your hens can play (easy, medium or hard!), and as the activity requires group work, everyone can be involved as little or as much as they want.
If you're not sure what an Escape Room is, it is a locked room/s which gives you a set time to escape (usually a 1 hour time limit). 

There a different challenges the group has to pass in order to be released from the room.
The great thing about an Escape Room for a hen party, is that it really gets the group mingling and sharing ideas. 

It is such a high intense activity for the 1 hour that will get everyones minds working and there will be plenty of laughs too - it's not an activity that has to be taken too seriously!
We have planned this for a hen party in Liverpool, and the hens - all young and older absolutely loved it.  When we went for drinks after the activity, the hens were still chatting about it for hours!
8) Sports Day
OK, hear us out before you think that the older or less sporty people aren't going to enjoy this.
We attended a hen party where all of the ladies stayed over at a hen party house.  On the first night we had drinks in the house with some party games - and there was some sore heads the following day. 
So you can imagine what was going through my mind when I woke up to hear that I had to get changed because we were going outside to do a sports day!  It wasn't what I wanted to hear.
All of the hens got dressed, we poured a bucks fizz and the Maid of Honour put us all into teams.  We had hens as young as 18 up to 65. 
My initial throughts were so wrong! It was so enjoyable and we played so many fun games that were suited to all levels of fitness including:
Rounders
Egg and Spoon Race
Bean Bag Race
Wheel Barrow Race
It was such a fun way to spend the day, and everyone quickly got over their hangovers! 

The day actually turned extremely competitive (in a fun way), even the Mother of the Bride and Groom loved it. 
This was definitely one of the most memorable hen party activities we've ever done.
9) Dancing Class
Another fun activity we have been involved in and absolutely loved!  This is a fabulous activity (especially after a few bubbles!), and it is perfect for hens of all ages.
There are plenty of mobile dancing teachers in the UK who you can book for a private group, and it generally works out quite cheap if you divide the cost by each hen in the party!
Our favourite classes include Salsa as you can learn the basics including an entire routine in an hour!

You could also consider a Pole or Burlesque class if you want more laughs and a little more sauciness!
10) Theatre Show
A show at the theatre is something that everyone can enjoy regardless of age.  Keep the choice suited to the brides personality - if she loves a rom com you could go with something like Mamma Mia, or if she's a hopeless romantic you could go with a show like Les Miserables or Dirty Dancing!
No matter where you're located, you're sure to be within a fair distance to the theatre, so it's definitely worth checking out what shows are on.
11) Home Themed Hen Party
We wanted to save one of the best til last.  Sometimes, you might find yourself working with a group of hens who have different interests where none of the above will suit (if that's the case, we feel for you!).  
The best advice we can give for a hen party that has a range of different ages and personalities that are difficult to please, is to have a simple hen party at home where you can customise it as you wish!
You could go with a festival inspired hen party and create fun wristbands for all of the hens as their invite, or keep it simple and just decorate the brides / someone in the bridal parties home.
These makes great hen parties because not only can you cater to suit everyone - you can also relax knowing people can leave when they like, and you can also bring in some mobile activities for the hens who like to get more involved.