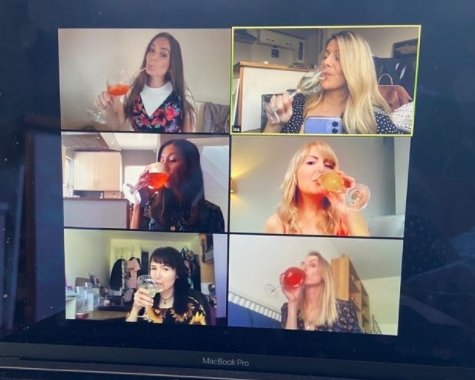 How To Throw A Virtual Hen Party
Has the wedding for your bestie bride to be been cancelled?
So much for that hen party you had been planning for ages! Fun and celebrations are still happening though and even though the amazing hen weekend you had planned can't take place, here are some ways you can throw a virtual hen party to cheer up the bride.
Remember ladies, all normal hen do rules are completely out the window right now, so be as creative as you like! In a world where zoom parties and quizzes are becoming the norm, read on for The Hen Planner guide on how to throw a virtual hen party.
How to Throw a Virtual Hen Party
One big bonus of a virtual hen is that most of the guests will be able to make it! Pick a time and date that suits the bride and hopefully most people. We find zoom the best for groups over 8 people. If you already have a WhatsApp group set up then just message the hen party guests there with the details. No need to worry about your hen party transport or accommodation! If you do want to go the hen planner extra mile, send a personal invite to each guest. Whether it's a direct message or a invite in the post, receiving a personal invite is always so much nicer and will make everyone feel inclusive.
Hen Party Theme or Dress Code
A theme for your hen party or a dress code is essential for a virtual hen bash. Whether you were planning a retro festival theme or riviera chic for your hen weekend in marbs, why let all that planning go to waste! If it's a last minute theme just go with something the ladies will have in their wardrobes. Black tie, sparkles, loungewear, Hollywood glamour…. there is no end to your imaginations here! 
Virtual Hen Party Games
Organised fun is more important than ever for a virtual hen party. With a large zoom group people can't have separate conversations so you need to have a plan to create a fun party vibe. Definitely play the Mr & Mrs quiz. This requires pre planning with the groom to get his answers. Other ideas are naughty hen party games or a big hen party quiz with random rounds. You could ask the girls for a party piece, have a virtual dance off, ask each of the girls to give a cocktail demonstration… the list is endless! The gift game can also be played remotely. You could ask each hen guest to hold up an object of something that reminds them of the bride and the bride has to guess what the object relates to. Or have the guests post the bride their little gift and she opens them at the virtual hen party! Check out our hen party games download which you can email around to your hen group and use for an easy game session. It includes Mr and Mrs Questions, Anagrams, A celebrity couple quiz, a personalised bride section.
Hey Groom!
For a virtual hen party, if the bride is living with the groom try and think of a way to get him involved (it's not as if he'll be anywhere!) have him dress up as a butler in the buff and keep her bubbles or cocktail topped up! Or run a live Mr and Mrs Hen Party quiz where each of them has a piece of card or paddle to show their answer to a question.
Virtual Hen Party Activities
If you are looking for how to throw a virtual hen party that everyone will remember, there are lots of virtual hen party activities you can do. From planning an indoor scavenger hunt or prosecco and painting or a live gin music festival… if you have the time you can totally create something yourself. If you don't, there are paid options available like Ladies who hen (UK based) who have launched hen hangout packages which include virtual gin tasting, nude life drawing, a live DJ set, a yoga class and afternoon tea (where all the sweet treats are delivered to each hen!). Don't forget to schedule breaks for people to top up their drinks or head to the bathroom.
Making it special for the Bride
Add a special touch for the bride by ordering her a few balloons to add some decorations !  Having brunch or a takeaway delivered to her (you have to line that stomach!) or having a drinks delivery to her to ensure she has enough prosecco for the party! Also download a special backdrop for the bride. Using zoom you can use virtual backgrounds. If the hen was to be in marbella, why not add a tropical background or go with the hen party theme.
Hen Party Playlist
Send around a playlist to all the hen party guests so that you can all be listening to the same music at the hen party. Check out our spotify hen party playlist here.